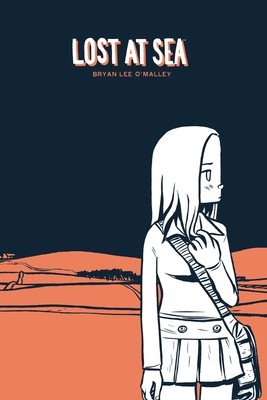 $11.99
Email or call for price.
Staff Reviews
---
Admittedly, I was a little behind in reading Brian Lee O'Malley. I read Seconds only after digging my heels into the ground following several recommendations from a handful of people and didn't read Scott Pilgrim until long after it had been made into a movie and became the cult classic it is today. Lost at Sea was the last thing I read of O'Malley's, but it is arguably my favorite. The way O'Malley portrays social anxiety is realistic and far from sugar coated. Rarely do I connect so well with a book, but this is one that has stuck with me, and Raleigh can only be described as a spirit animal of mine. 
—
Heather H.
Description
---
Raleigh doesn't have a soul. A cat stole it – at least that's what she tells people – at least that's what she would tell people if she told people anything. But that would mean talking to people, and the mere thought of social interaction is terrifying. How did such a shy teenage girl end up in a car with three of her hooligan classmates on a cross-country road trip? Being forced to interact with kids her own age is a new and alarming proposition for Raleigh, but maybe it's just what she needs – or maybe it can help her find what she needs – or maybe it can help her to realize that what she needs has been with her all along.
About the Author
---
Bryan Lee O'Malley is a Canadian cartoonist best known for the bestselling, award-winning Oni Press series "Scott Pilgrim" (2004-2010). "Scott Pilgrim" was adapted into a critically-acclaimed major motion picture (from Universal) and video game (from Ubisoft) in 2010. O'Malley lives in Los Angeles, where he continues to make comics.