Tease Monster: A Book about Teasing vs. Bullyingvolume 2 (Building Relationships) (Paperback)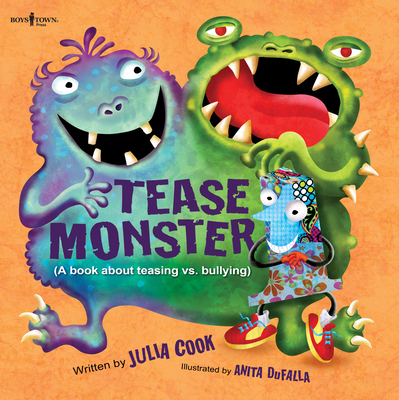 $10.95

Not Available In-Store - Usually Ships from Warehouse in 1-5 Days
Other Books in Series
Description
---
Is the Tease Monster a friend or a foe?
That's what
One of a Kind
has to figure out in this quirky tale that teaches young readers the difference between nice teasing and mean teasing. One-of-a-Kind is truly unique. Made up of multiple colors, One has big feet and loves eating popsicles while standing upside down. But when Purple laughs at One for being weird and Green playfully calls One a
klutz
for tripping on the stairs, One feels rotten and vows never to go back to school. One doesn't understand the difference between friendly teasing and mean teasing. But with Mom's help, One learns that teasing is part of life and that laughing at someone (mean teasing) can have a hurtful bite while laughing with someone (nice teasing) can be alright... it it's not done out of spite
Tease Monster
is part of Julia Cook's
Building Relationships
book series. Included in the book are tips for parents and educators on how to help children understand the differences between teasing and bullying.
The series also includes:
Cliques Just Don't Make Cents
Making Friends Is an Art
Peer Pressure Gauge
Hygiene... You Stink
Rumor Has It...
The Judgmental Flower
Table Talk
I Want to Be the Only Dog
About the Author
---
Julia Cook, a former school counselor and teacher, has written many books on behavior and health for children. Her Building Relationships series of 9 storybooks helps kids develop healthy relationships with their peers, parents, and teachers. Julia regularly presents in schools across the country and delivers keynote addresses at national education and counseling conferences. She has received the Association for Educational Publishers Distinguished Achievement Award, and her books have been honored by the National Parenting Center and Mom's Choice Awards.