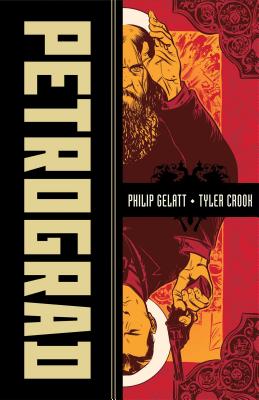 $29.99

Special Order - Subject to Availability
Description
---
Introducing the untold tale of the international conspiracy behind the murder of Grigori Rasputin! Set during the height of the first World War, the tale follows a reluctant British spy stationed in the heart of the Russian empire as he is handed the most difficult assignment of his career: orchestrate the death of the mad monk, the Tsarina's most trusted adviser and the surrogate ruler of the nation. The mission will take our hero from the slums of the working class into the opulent houses of the super rich... he'll have to negotiate dangerous ties with the secret police, navigate the halls of power, and come to terms with own revolutionary leanings, all while simply trying to survive! Based on historical documents and research, PETROGRAD is a tense, edge-of-your seat spy thriller, taking the reader on a journey through the background of one of history's most infamous assassinations, set against the backdrop of one of the most tumultuous moments in 20th century history.
About the Author
---
Philip Gelatt has worked in film, TV, comics, and video games. His work as writer and director includes the award-winning thriller They Remain, and the rotoscope-animated fantasy epic The Spine of Night. He was the writer of the 2013 sci-fi film Europa Report, and is the lead writer on the adult-animated Netflix series Love Death + Robots.

In video games, he received a WGA award for his work on Rise of the Tomb Raider and has been working with Frictional Games on their follow-up to Soma.

Gelatt lives in Providence, Rhode Island, with his wife and son.

Tyler Crook is a comic book artist and illustrator. For over a decade he worked as a comics creator, artist, and 3D modeler in the video game industry.

Released in 2011, PETROGARD was Tyler's first published comic and earned Tyler the Russ Manning Promising Newcomer Award. Since then, he has worked on dozens of comics titles including B.P.R.D. HELL ON EARTH, WITCHFINDER, BAD BLOOD, and 6th GUN. In 2016, HARROW COUNTY, the horror comic he created with Cullen Bunn, was nominated for an Eisner Award for Best New Series and his Comixology Original book, STONE KING, was nominated for Best Digital Comic in 2019.

Tyler lives in rural Oregon with his wonderful spouse and many terrible pets.