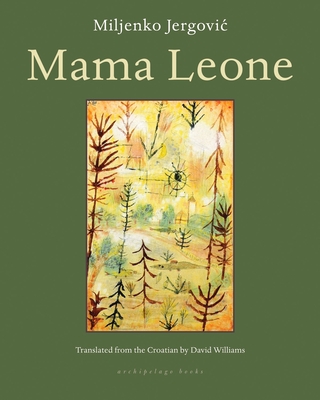 $16.00

Special Order - Subject to Availability
Description
---
Written in the shadow of the Yugoslav wars, yet never eclipsed by them, Mama Leone is a delightful cycle of interconnected stories by one of Central Europe's most dazzling contemporary storytellers. Miljenko Jergovic leads us from a bittersweet world of precocious childhood wonder and hilarious invention, where the seduction of a well-told lie is worth more than a thousand prosaic truths, out into fractured worlds bleary-eyed from the unmagnificence of growing up. Yet for every familial betrayal and diminished expectation, every love and home(land) irretrievably lost, every terror and worst fear realized, Jergovic's characters never surrender the promise of redemption being but a lone kiss or winning bingo card away. As readers we wander the book's rhapsodic literary rooms, and as a myriad of unforgettable human voices call out to us, startled, across oceans and continents, we recognize them as our own.
About the Author
---
Novelist, short story writer, poet, and columnist, Miljenko Jergovic is a literary phenomenon whose writing is celebrated throughout Europe. His poetry collection Warsaw Observatory received the Goran Prize for young poets and the Mak Dizdar Award and his landmark collection of stories Sarajevo Marlboro received the Erich Maria Remarque Peace Prize. Mama Leone won the highly regarded Premio Grinzane Cavour for the best foreign book in Italy in 2003. His other works include Ruta Tannenbaum, The Walnut House, Buick Riviera, and Father.
Translator: David Williams translated Dubravka Ugreši''s Karaoke Culture, which was a finalist for the National Book Critics Circle award for criticism. He holds a doctorate in Comparative Literature from the University of Auckland.
Praise For…
---
Miljenko Jergovi? is a fascinating writer in the best literary tradition of Central Europe. Mama Leone is a fresh, original and seductive narrative on a family odyssey, real and imaginary, through love and death, war and wonder, sorrow and joy, told with gentle irony, intensity, and magic candor. —Norman Manea

These spare tales speak of all that may yet befall us if we forget our essential fragility.—Richard Flanagan

A remarkable collection . . . Grim, beautiful ruminations on how the familiarities of life can, in the instant a bomb drops, become unrecognizable. . . . With a natural sense of stopping point and courage to spare, Jergovi?? has the mien of the rare author whose gift is so innate he need only conquer a few demons and steady his hands enough to write it all down. —San Diego Union Tribune

Miljenko Jergovi? is a superb stylist...He manages to convey vivid and emotionally rich pictures of everyday life with even the slightest of rhetorical flourishes. His prose can be deceptively simple at times, but this reveals his fine-tuned ear for language that eschews unnecessary complications. David Williams has done a superb job of translating these stories and has managed to keep them fresh and vivid even in English. They are bound to amuse and entertain. —Bojan Tunguz

[Jergovic is] a poet, novelist, and journalist of the highest caliber. . . . His concern is for the living and in this collection of stories about Sarajevo and its inhabitants he writes about them with the seriousness, sensitivity, quirky intelligence, and gentle humor of a master of the short story. —The New Republic