Citizen Keane: The Big Lies Behind the Big Eyes (Paperback)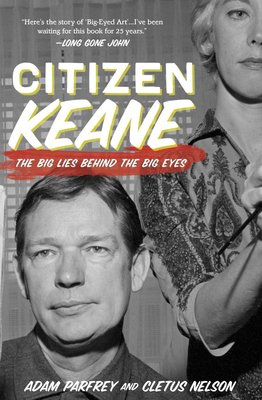 $18.95
Not Available In-Store - Usually Ships from Warehouse in 1-5 Days
Staff Reviews
---
This book is a "hoot"! It is not a real demanding read, but an enjoyable romp, nonetheless. Walter Keane was a prolific artist who came to public notice in the late 60's and 70's. Perhaps you remember his sad wide-eyed waifs in your grandmother's or parents' home. More recently, you may have run across his prints in the bargain bins at thrift stores. They were ubiquitous back in the day. They were trashed by "critics" and adored by the public. They also made Walter Keane a very wealthy man. His paintings were snapped up by the likes of Joan Crawford. What Walter failed to mention to anyone at the time was that he was not the artist. That would have been his wife, Margaret, who labored at home while Walter partied with the stars. Much like the Kardashians of today, Walter may have lacked talent, but he knew how to market himself. He garnered fame and fortune on that ability alone. I was thoroughly entertained by this book. It is a great story. But, on another level, it also led me to ponder that age old question..."What IS art?"...and who exactly decides.
—
WALT'S STAFF PICKS
Description
---
Teary, big-eyed orphans and a multitude of trashy knockoffs epitomized American kitsch art as they clogged thrift stores for decades.
When Adam Parfrey tracked down Walter Keane--the credited artist of the weepy waifs, for a San Diego Reader cover story in 1992--he discovered some shocking facts. Decades of lawsuits and countersuits revealed the reality that Keane was more of a con man than an artist, and that he forced his wife Margaret to sign his name to her own paintings. As a result, those weepy waifs may not have been as capricious an invention as they seemed.
Parfrey's story was reprinted in Juxtapoz magazine and inspired a Margaret Keane exhibition at the Laguna Art Museum. And now director Tim Burton is filming a movie about the Keanes called Big Eyes, and it's scheduled for release in 2014. Burton's Ed Wood, starring Johnny Depp, was based upon the Feral House book edited and published by Parfrey about the angora sweater-wearing B-film director.
Citizen Keane is a book-length expansion of Parfrey's original article, providing fascinating biographical and sociological details, photographs, color reproductions, and appendices with legal documents and pseudonymous essays by Tom Wolfe inflating big eye art to those painted by the great masters.
About the Author
---
Cletus Nelson: Cletus Nelson is a contributor to books published by Process Media, The Disinformation Company, and Creation Press.Adam Parfrey is the editor of Apocalypse Culture, Apocalypse Culture II, It's a Man's World: Men's Adventure Magazines, the Postwar Pulps, and co-editor of Sin-a-Rama: Sleaze Paperbacks of the '60s. He is the co-writer (with Craig Heimbichner) of Ritual America: Secret Brotherhoods and their Influence on American Society, and (with Maja D'Aoust) The Secret Source: The Law of Attraction and its Hermetic Influence Throughout the Ages, (with Brendan Mullen and Don Bolles) Lexicon Devil: The Fast Times and Short Life of Darby Crash and The Germs. Adam also wrote the compilation Cult Rapture, which contained his early feature article on the crazy Keane story.