The Campaign Within: A Mayor's Private Journey to Public Leadership (Hardcover)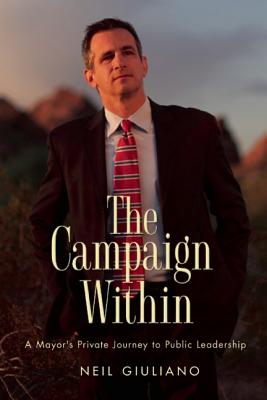 $19.99
Not Available In-Store - Usually Ships from Warehouse in 1-5 Days
Description
---
In The Campaign Within, Neil Giuliano shares in candid and revealing detail his long private journey from growing up a shy, self-doubting kid with a secret in an Italian-American Catholic family to making history as the first openly gay mayor of a U.S. city over 150,000 in population.

In addition to his deeply personal story, Neil takes us behind the scenes of local and national politics, including his elections and involvement with Senator John McCain's 2000 presidential primary campaign, the anti-gay mayoral recall vote that threatened to oust him from office, Co-Chairing a 2004 Presidential Debate, his decision to leave the Republican Party as it tilted further right, becoming a Democrat, and his considering a return to public office.

Neil also chronicles his national social justice work and celebrity-filled tenure as president of the Gay & Lesbian Alliance Against Defamation (GLAAD) and Executive Producer of the GLAAD Media Awards on the Bravo TV network with behind the scenes stories that surprise and inspire.

Brave and compelling, The Campaign Within demonstrates that the greatest campaigns are not the ones taking place within the public realms of electoral politics but the personal ones inside each and every one of us.

Currently CEO at San Francisco AIDS Foundation and a leadership consultant, speaker and coach, Giuliano resides in Tempe and San Francisco.
About the Author
---
Neil Giuliano: Neil G. Giuliano is an educator, activist, philanthropy advisor, leadership coach, and speaker. A former mayor and president of a national advocacy organization, he has been involved with community service and public affairs his entire career. Giuliano is the former four-term mayor (1994-2004) of Tempe, Arizona. He wrote the proposal for and then co-chaired hosting the third debate of the 2004 United States presidential elections. He served as President of the Gay and Lesbian Alliance Against Defamation (GLAAD) from September 2005, and stepped down from the post in June 2009. In December 2010, he was appointed CEO of the San Francisco AIDS Foundation. He currently divides his time between San Francisco and Phoenix, AZ.
Praise For…
---
"Neil Giuliano, true renaissance man, has written one of the most extraordinary books on being an out mayor of a major American City. Giuliano leaves no stone unturned in his quest to leave a written message to future generations. He has dedicated his life to public service and had performed another one with the honesty in this book. Treat yourself to a memorable, exiting and important read."

-- David Mixner

"Neil is an American gay rights hero. His personal story, beautifully told in his new memoir, is an often dramatic tale about the darkness and fear of the closet and the light and freedom of coming out -- to family, friends, voters and most of all to yourself. It is a story about politics, media, gay rights, and most of all about integrity. The Campaign Within is a landslide winner."

--Richard Socarides, former Special Assistant to the President and Senior Advisor, The White House, Administration of President Bill Clinton.

"Neil Giuliano takes his reader by the hand and by the heart in The Campaign Within, a gritty exploration of the American Dream deeply entrenched in self-doubt, aspiration and faith. Neil does the difficult work; tackling mistakes with sincere regret and with deep compassion for those who caused him harm. His skillful and on-point storytelling allows one to relax and trust in his journey and to ultimately throw two fists in the air in triumphant celebration as he reveals how he confronted and won The Campaign Within. This is a beautifully story, from the pen of a modern day hero."

--Chely Wright, country music artist and author of Like Me

"A shockingly honest memoir; I was riveted by Neil's transformation from secretive politician to proud advocate."

--Marc Cherry, Creator and Executive Producer, Desperate Housewives

It's a challenge and blessing to be a pioneer, and Neil plumbs aspects of this unenviable role in his engaging and highly readable memoir. I've known Neil as a colleague, but knew few details of his full story. The Campaign Within is enthralling and left me grateful to know him as a friend and fellow activist."

--Kate Kendell, Executive Director, National Center for Lesbian Rights

"First he was straight, then he was gay. First he was a Republican, then he was a Democrat. So if you are straight, gay, republican or democrat you will love this book."

--David Spade

"I cannot recommend The Campaign Within in stronger terms. The former mayor takes us on an important, revelatory journey that scorches with truth. We cry and we laugh; but, mostly, we find genuine hope and comfort in this remarkable man's ultimate peace. After finishing this beautiful book, I can't wait to see what happens next."

-- Richard Pérez-Feria, former Editor in Chief, People en Espanol

Neil Giuliano's remarkable ability to be both personally confident and dispassionate in describing his journey, and becoming a highly successful and respected mayor along the way, speaks to the uncertainties and possibilities of all of us. The Campaign Within is an especially relevant story for anyone serving in or preparing to run for public office."

--Don Borut, Executive Director, National League of Cities