Preschoolers at Play: Choosing the Right Stuff for Learning and Development (Paperback)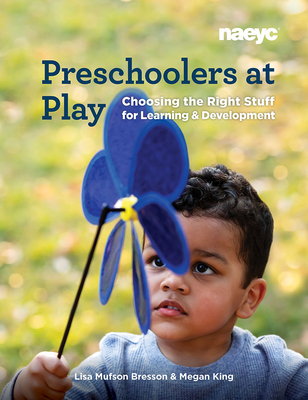 $28.00

Not Available In-Store - Usually Ships from Warehouse in 1-5 Days
Description
---
Playing Is Learning The research is clear: Play is a
critical part of the learning process for young children. Early childhood
educators have the opportunity to deeply and meaningfully scaffold children's
learning by curating and organizing the "stuff" children love to play with
most. With this book, discover ideas for both familiar and new play materials
and how those materials support the cognitive, social and emotional, and
physical learning and development of children ages 3 to 5. This practical, easy-to-read resource -
Presents
foundational information organized around the who, why, how, and what of using
play materials to support preschoolers' learning and development -
Provides
suggestions for play materials and describes why they are useful for different
aspects related to each learning and development domain -
Offers
activity ideas as well as examples of questions to ask and comments to make
that can extend children's understanding as they engage in play -
Includes
tips for developmentally appropriate ways to embed technology in children's
play -
Recommends
more than 90 children's books that go hand-in-hand with each learning and
development domain Be inspired to take a look at your early
learning setting through fresh eyes and enhance the quality of your program by
providing play materials and experiences that nurture the learning,
development, and well-being of each preschooler you teach.
About the Author
---
Lisa Mufson Bresson, MEd, is an early childhood education consultantwith Beyond Boundaries, LLC, and coauthor of NAEYC's bestselling book Big Questions for Young Minds: ExtendingChildren's Thinking. She leads workshops and presentations at local, state, national, and international conferences, thriving on the connections she makeswith learners--both big and little!--on a daily basis. Since 2008, she has been acontributing author to Teaching YoungChildren (TYC), NAEYC's magazine for preschool teachers, and serves on TYC's advisory board. She is a former program manager for Grow NJKids, New Jersey's statewide Quality Rating and Improvement System for earlychildhood programs. Previously, Lisa taught in urban public preschool settingsfor over a decade. Megan King, MEd, is a preschool teacher at Passaic PublicSchools in Passaic, New Jersey. She has worked in the field of early childhoodeducation for over 10 years. She is active in the makerspace movement and haspresented on and coauthored several articles on incorporating hands-on "maker"materials in early childhood classrooms. She has written articles published in TYC and is proud to serve as one of TYC's advisory board members. She works with a diverse group ofearly childhood educators on the NAEYC/PBS Ready To Learn Content ReviewAdvisory Board and is a past NJ Governor's Educator of the Year Award winner atthe school level. Megan enjoys working with her preschoolers and experiencingthe world through their eyes.