The Hills Reply (Paperback)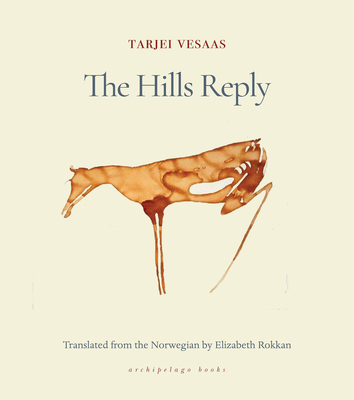 $18.00

Special Order - Subject to Availability
Description
---
"There's beauty to be found outdoors, but it's not without its horrors. The conflicted role of humans in nature is a familiar theme, but few narratives hum with the surreal power of this one." — Kirkus Reviews

An intensely graceful novel recounting scenes of the Norwegian countryside from one of Norway's most beloved 20th-century writers

Tarjei Vesaas's final work, The Hills Reply, is a flow of intensely lyrical autobiographical scenes. The vivid beauty of the wilds of Norway grounds the narrator's interior flashes.

The first sketch finds a boy, his father, and their packhorse clearing a logging road buried in snow as their surroundings give way to a crisis. Profound insights into human behavior, solitude, and nonverbal communication stand up to the power and immensity of the natural world. The land speaks to (and at times almost swallows) the central character, as he is pushed to the edge of what a body and mind can endure.

The hypnotic pulse of Vesaas's prose blurs the line between memory and hallucination, as it stares bravely into the unblinking eye of Nature. An unforgettable book, The Hills Reply is a visceral salute to the human spirit, to the ecstasy of wilderness, and to their tender overlapping.
About the Author
---
Tarjei Vesaas (1897-1970) novelist, poet, and playwright, is widely regarded as one of Norway's greatest writers of the twentieth century. Vesaas spent the majority of his life in Vinje, living on the farmhouse that had belonged to his family for three centuries. Despite his apparent isolation, Vesaas proved to be a prolific writer, publishing twenty-five novels and several volumes of poetry, short stories, and plays in his lifetime. He won several awards, including the Gyldendal's endowment in 1943, The Nordic Council's Literature prize in 1963 for his novel, The Ice Palace, and the Venice Prize in 1953 for The Winds. His novel The Birds was published by Archipelago in 2016. He was considered for the Nobel Prize three times. About the translator: Elizabeth Rokkan was a professor of English at the University of Bergen, Norway from 1964 to 1990. She has received critical acclaim for her translations of the work of Tarjei Vesaas and Cora Sandel, and was awarded the St. Olav Medal for her efforts to make Norwegian literature available to English speakers.
Praise For…
---
"Vesaas writes beautifully about the natural world, but he presents it as a frequently harsh and brutal place. Early in the book, one character encounters a crane, and a sublime passage about the grace with which birds move gives way to something much more visceral ... There's beauty to be found outdoors, but it's not without its horrors.The conflicted role of humans in nature is a familiar theme, but few narratives hum with the surreal power of this one." — Kirkus Reviews

"This final work by one of Norway's most significant writers of the 20th century has the abstract, colorist strangeness of Matisse's late wall-hangings. What would happen if landscape entirely superseded people (as if this doesn't happen when we die). Here's a beautiful, arresting answer." –John Freeman, Lithub

"Norwegian writer Tarjei Vesaas (also the author of The Ice Palace and The Birds) writes with an unassuming wonder that fills each moment with beauty and dread. The Hills Reply was Vesaas' final book and in a hallucinatory fashion it again renders the smallness (but also precision) of the human mind against the immensity of the natural world. Vesaas is amazing in any season, but especially winter." – Nate McNamara, Lithub

"A startling book whose style will challenge as well as invigorate readers... an unusual hybrid novel that is immensely rewarding and often stunningly beautiful. The Hills Reply is without a doubt one of the great reading surprises of the year." — C.M. Crockford, Shelf Awareness

"This episodic novel was Norwegian writer Tarjei Vesaas's last book before his death, and the English translation by Elizabeth Rokkan relates a complex, overlapping set of vignettes that take place against the backdrop of the Norwegian countryside." -Emma Specter, Vogue

"Tarjei Vesaas is the best and most interesting Norwegian writer after the Second World War. His language is so sensitive, so open to his characters' minds and the landscape they inhabit, that it gives form to that space between - between people and other people, between people and nature - the space where our lives unfold." -Karl Ove Knausgaard

"(Tarjei Vesaas's) last book. A visionary masterpiece. I revere Vesaas and Elizabeth Rokkan. First published in 1968 but feels philosophically and stylistically brand new for the major concerns of our time as regards nature, time and human loss. Astonishingly beautiful and strange." — Max Porter

"Vesaas's story ... rumbles with an ache for connection to people, animals and visions, and ultimately the earth, which waits to fulfill our mortal destinies. It is also enlivened by a discipline of active dreaming, the writer tuning in to 'the pulse in the night … for what one does not understand.'" — David Varno, On the Seawall

"The text is a masterful subversion of nostalgia, and a unification of place, person, and past. Divided into episodes, each section is a meditation on the existential symbiosis between consciousness and its surroundings....Like Van Gogh's Café at Night, where structures, people, and the unknowable ether above join to form a single unit, The Hills Reply intimates a concerted artistic whole through philosophical and aesthetic connectivity." — Entropy Magazine

"A clear crystal of imagination...a rare kind of masterpiece" -Daily Telegraph

"A rare mixture of creative vitality, conviction and artistry." -Guardian

"An excellent translation by Elizabeth Rokkan catches the quiet, poetic mood." -Sunday Telegraph

"Infinitely calm and strong." -Daily Telegraph

"Disturbing and beautiful...elaborate and powerful." -Sunday Times

"A book of great strength and beauty." -The Times