Childhood Leukemia: A Guide for Families, Friends & Caregivers (Paperback)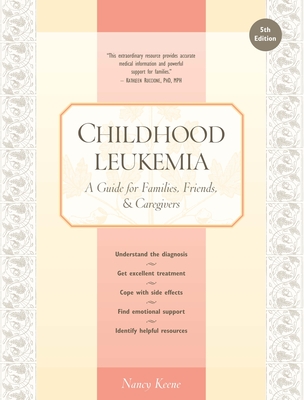 Description
---
Approximately 4,500 children and teens are diagnosed with leukemia in the United States and Canada each year. The illness and its treatment can have a devastating effect on family, friends, classmates, and the larger community. This newly updated edition of Childhood Leukemia contains the information and support parents need during this difficult time, including:
New treatments such as immunotherapy, tailoring drugs dosages to children's genetic profiles, and ways to deal with side effects.
Advice on how to cope with procedures, hospitalization, school, family, and financial issues.
Tips for forming a partnership with the medical team.
Poignant and practical stories from family members.
Updated resources for medical information, emotional support, and financial assistance.
Parents who read this book will find understandable medical information and emotional support.
About the Author
---
Nancy Keene is the mother of a long-term survivor of high-risk acute lymphoblastic leukemia. A well-known writer and advocate for children with cancer, she has written and co-authored many books on topics ranging from childhood cancers to working with your doctor. Her work has appeared in publications such as Reader's Digest, Journal of the American Medical Association, Exceptional Parent, and Coping Magazine. Nancy has been interviewed on National Public Radio (NPR), frequently speaks to professional and parent groups, and has participated in online support groups for parents of children with cancer.
Praise For…
---
"This book is an extraordinary resource. In its pages the reader will find clear, concise, and understandable information about childhood leukemia. And even more powerfully, the reader will 'hear' the voices of parents who share their experiences in their own words: what worked, what didn't, what helped, what hurt." —Kathy Ruccione, PhD, MPH, President, Association of Pediatric Hematology/Oncology Nurses

"A must-have resource for families of childhood leukemia patients and all library ­collections." —Julia Reffner, Library Journal Starred Review

"Childhood Leukemia is informative, realistic, and accurate. The author handles the topic with transparency, compassion, and a genuine desire to get factual and helpful information into the hands of those going through this disease with their child." —Cecilia C. Railey, Hospital Libraries section, Medical Library Association

"Childhood Leukemia leaves no stone unturned when helping readers understand what to expect. Using an empathetic approach, it is written in clear, comprehensive language. I recommend that this book become a part of any library's consumer or health care collection." —Ansley Stuart, Allied Health Sciences Librarian

"This book offers rock-solid guidance to parents faced with the life-altering news that their child has leukemia. Keene offers guidance and comfort on their difficult journey. This work is highly recommended as a valuable addition to any library." —Claire B. Joseph, MS, MA, AHIP (D), Consumer and Patient Health Information section, Medical Library Association
 

"This book is an indispensable resource for families and loved ones of a child being treated for any variety of leukemia and a great resource for oncology social workers to have in their library." —Courtnew Sutliff, MSW, LCSW, ACHP-SW, OSW-C, Association of Oncology Social Work


"Insightful... Captivating... This book captures the array of experiences and advice from providers, parents, extended family, and most importantly, the patients. I encourage heathcare team members to read this valuable resource and consider sharing it with patients and families upon diagnosis." —Carol Roberts, BSN, RN, CCRC, Association of Pediatric Hematoloy/Oncology Nurses

"Comprehensive, compassionate. It's organization and readability make it very accessible for parents and others touched by the frightening specter of childhood leukemia, and a must-have addition to any library or resource center collecting pediatric consumer health titles." —Nancy C. Seeger, Journal of Consumer Health on the Internet