Narrative of the Life of Frederick Douglass (Clydesdale Classics) (Paperback)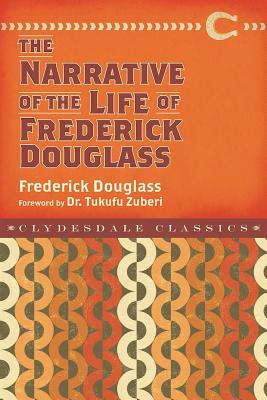 Description
---
Packaged in handsome and affordable trade editions, Clydesdale Classics is a new series of essential literary works. From the musings of literary geniuses like Mark Twain in The Adventures of Huckleberry Finn to the striking personal narrative of Harriet Jacobs in Incidents in the Life of a Slave Girl, this new series is a comprehensive collection of our literary history through the words of the exceptional few.

The Narrative of the Life of Frederick Douglass is perhaps the most widely read and well-known slave narrative. Originally published in 1845, the work was an instant success, selling more than 11,000 copies in the first three years. Written as a memoir of his life and experiences, the book addresses the issues of slavery from a firsthand perspective with a sage eloquence. The narrative draws from various points of Douglass's life in stark detail: the cruelty he experienced as a slave, his escape to freedom, and how he became a famous orator and abolitionist.

Initially, early skeptics had a hard time accepting that such a profound text was written by an uneducated African American slave. However, this theory was quickly disproven when he spoke in public, famously giving extraordinarily articulate speeches. The Narrative of the Life of Frederick Douglass is no exception to Douglass's vigor, poise, and wit he exemplified in his oration. Here is a story of a man who faced extreme hardship and adversity—and rose above it to write one of the most important and influential books in history.
About the Author
---
Frederick Douglass was born in February of 1818 into slavery. In 1838, he escaped on a train and headed north to Maryland, Philadelphia, and eventually New York City, where he took refuge with a well-known abolitionist. There, Douglass became a famous orator and abolitionist, using his rhetoric and oratorical skills to refute the idea that African Americans were incapable of being learned. He later recounted the struggles he faced as a slave through multiple narratives, most notably his autobiography, The Narrative of the Life of Frederick Douglass. The book became an instant bestseller, despite its initial opposition and skeptical reception. Throughout his lifetime, Douglass was a strong advocate for human rights and the abolition of slavery. He passed away in 1895, shortly after attending and speaking at a meeting of the National Council of Women in Washington, DC.

Tukufu Zuberi is an American sociologist, filmmaker, social critic, educator, and writer, as well as the Lasry Family Professor of Race Relations, Professor and Chair of the Sociology Department, and Professor of Africana Studies at the University of Pennsylvania. Zuberi has appeared in several documentaries on Africa and the African diaspora, including Liberia: America's Stepchild and 500 Years Later. Additionally, He is one of the hosts of the long-running PBS program History Detectives. As the founder of his own production company, he produced the award-winning film African Independence, which premiered at the San Diego Black Film Festival in January of 2013.