The Mindful Family Guidebook: Reconnect with Spirit, Nature, and the People You Love (Paperback)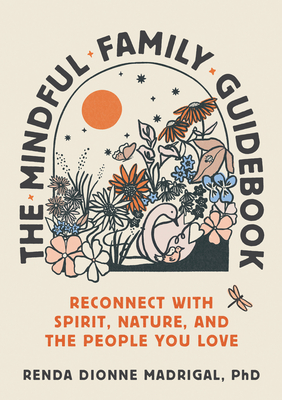 $17.95

Not Available In-Store - Usually Ships from Warehouse in 1-5 Days
Description
---
Turn off screentime and come back to earth with this family mindfulness guidebook from Chippewa clinical psychologist Renda Dionne Madrigal, PhD, and reconnect with your family through time-honored mindfulness and Indigenous practices and respect for the natural world.

Family life can be chaotic and messy, and we easily forget what matters most for our health and happiness: "the spirit and wellness that have sustained our ancestors and our entire human family for as long as we've existed on the planet," as Renda Dionne Madrigal puts it. If we, as parents, aren't present with our children, they get their values from peer culture, advertising, and social media instead of the family stories, personal dreams, and ancestral instincts we all have as treasures within ourselves to share.

Drawing on indigenous circle practice for communication, The Mindful Family Guidebook provides a deep-rooted guide for a family that grows with a sense of purpose and belonging. Whether you have young children or teens, cultivating authentic connection with each other and the natural world is vital for your mental and emotional health, and this book shows you how—with more than 80 fun and profound activities you can do as a family.
About the Author
---
RENDA DIONNE MADRIGAL is a Turtle Mountain Chippewa clinical psychologist and UCLA-certified mindfulness facilitator. Featured on the cover of Mindful magazine in 2018, her workshops on Mindful Families, Storytelling as Healing, and Theatre of the Oppressed are popular nationally in the United States. In her clinical practice, she teaches mindfulness to families, adults, and youth including classes on Mindful Parenting, Mindfulness-Based Cognitive Therapy (MBCT), Mindfulness for Pain Management, Stop Breathe and Be (.B), and Mindfulness-Based Stress Reduction (MBSR) for Teens. She has over 20 years of experience creating and directing evidence-based family and child programs for better health. She regularly incorporates storytelling, writing, and mindfulness into her work.
Praise For…
---
"The Mindful Family Guidebook provides compassionate instruction for strengthening what may be our most important and intimate (and sometimes most challenging) relationships."—Lion's Roar

"This groundbreaking new book skillfully weaves together Indigenous and mindfulness practices in the service of building self-awareness and connection within our families. I am grateful for and delighted by this addition to the mindfulness field."—Susan Kaiser Greenland, author of The Mindful Child

"Renda Dionne Madrigal's new book is profoundly significant. It offers teachings from her unique perspective as an American Indian, mother, psychologist, and longtime mindfulness practitioner. There is truly nothing else out there that combines American Indian wisdom and practices with mindfulness teachings. Her compassionate and wise voice creates a beautiful synthesis for families to share together and return to over the years."—Diana Winston, director of Mindfulness Education at UCLA's Mindful Awareness Research Center (MARC) and author of The Little Book of Being