Enjoying the Ultimate: Commentary on the Nirvana Chapter of the Chinese Dharmapada (Paperback)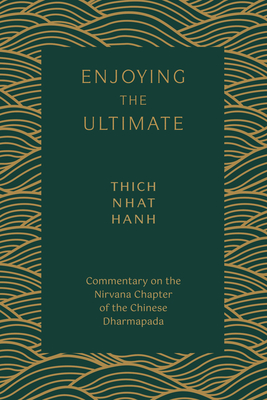 Description
---
For Buddhists seeking perfection, the Sanskrit word "nirvana" is held as the unreachable goal. But in this definitive, direct translation of the Chinese Dharmapada by Zen Master Thich Nhat Hanh, nirvana is not what you think it is.

"Nirvana is our daily business," Thich Nhat Hanh says. Based on talks given in his home monastery of Plum Village in France at the peak of his long teaching career, The Nirvana Chapter conveys Thich Nhat Hanh's insights on the 36 verses on nirvana in the Chinese Dharmapada. Described there as "the absence of notions that cause suffering," we discover that nirvana can be experienced at any time. Previously unavailable in English, these teachings on the experiential path which can help us touch nirvana are an "instant classic" for Buddhists and meditation practitioners.

With his fluency in Classical Chinese and his knowledge of Sanskrit and Pali, Thich Nhat Hanh is the perfect guide to lead the way to a new understanding of nirvana for an international audience. Through his commentary, ranging freely in his vast knowledge of Vietnamese Buddhist history, we gain a master practitioner's view of a tradition of Zen Buddhism that has been, until now, inaccessible to Western students. We also gain insights into the elusive "space outside of space" of nirvana's ultimate dimension.
About the Author
---
Thich Nhat Hanh was a world-renowned spiritual teacher and peace activist. Born in Vietnam in 1926, he became a Zen Buddhist monk at the age of sixteen. Over seven decades of teaching, he published more than 100 books, which have sold more than four million copies in the United States alone. Exiled from Vietnam in 1966 for promoting peace, his teachings on Buddhism as a path to social and political transformation are responsible for bringing the mindfulness movement to Western culture. He established the international Plum Village Community of Engaged Buddhism in France, now the largest Buddhist monastery in Europe and the heart of a growing community of mindfulness practice centers around the world. He passed away in 2022 at the age of 95 at his root temple, Tu Hieu, in Hue, Vietnam.