Saving Grand Canyon: Dams, Deals, and a Noble Myth (Hardcover)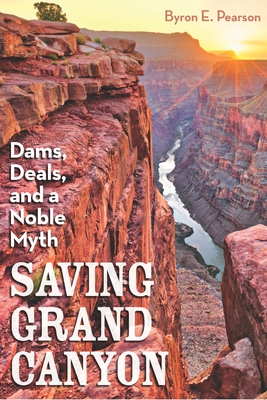 Description
---
2020 Winner of the Southwest Book Awards
2020 Spur Awards Finalist Contemporary Nonfiction, Western Writers of America 

The Grand Canyon has been saved from dams three times in the last century. Unthinkable as it may seem today, many people promoted damming the Colorado River in the canyon during the early twentieth century as the most feasible solution to the water and power needs of the Pacific Southwest. These efforts reached their climax during the 1960s when the federal government tried to build two massive hydroelectric dams in the Grand Canyon. Although not located within the Grand Canyon National Park or Monument, they would have flooded lengthy, unprotected reaches of the canyon and along thirteen miles of the park boundary.

Saving Grand Canyon tells the remarkable true story of the attempts to build dams in one of America's most spectacular natural wonders. Based on twenty-five years of research, this fascinating ride through history chronicles a hundred years of Colorado River water development, demonstrates how the National Environmental Policy Act came to be, and challenges the myth that the Sierra Club saved the Grand Canyon. It also shows how the Sierra Club parlayed public perception as the canyon's savior into the leadership of the modern environmental movement after the National Environmental Policy Act became law.

The tale of the Sierra Club stopping the dams has become so entrenched—and so embellished—that many historians, popular writers, and filmmakers have ignored the documented historical record. This epic story puts the events from 1963–1968 into the broader context of Colorado River water development and debunks fifty years of Colorado River and Grand Canyon myths.
About the Author
---
Byron E. Pearson is an Arizona native, author, and environmental historian of the American West. He is a professor of history at West Texas A&M University and has published numerous articles and scholarly reviews in venues such as Forest History Today,The Western Historical Quarterly, and Pacific Historical Review.
 
Praise For…
---
"Pearson's determination to revise the public's understanding of the controversy that surrounded the Grand Canyon during the 1960s certainly offers a useful corrective to various exaggerations and legends that have blossomed during the past half-century. He also offers the reader a thoughtful explication of Stewart Udall's political difficulties, seeking as he did to accommodate the interests of Arizona's development while pursuing an increasingly passionate agenda of environmental advocacy as secretary of the interior. Above all, Pearson's detailed exploration of the crucial role of legislative affairs, incorporating as it does the dynamics of party politics, of bureaucratic ambitions, and of regional development, reminds us that we omit such careful study of institutions at our scholarly peril."
—The Journal of Arizona History

Nature-loving readers will find value in his [Pearson's] insights both into a specific conservation milestone and into the broader sweep of the environmentalist movement's history.
— Publishers Weekly