Saints, Sinners, and Sovereign Citizens: The Endless War over the West's Public Lands (Hardcover)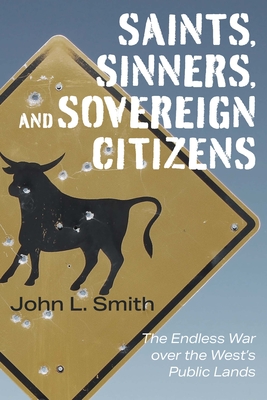 Description
---
Listed as one of the Reno News & Review's "New Books from Nevada Authors," December 29, 2021

The grazing rights battle between Nevada rancher Cliven Bundy and the federal government, resulting in a tense, armed standoff between Bundy's supporters and federal law enforcement officers, garnered international media attention in 2014. Saints, Sinners, and Sovereign Citizens places the Bundy conflict into the larger context of the Sagebrush Rebellion and the long struggle over the use of federal public lands in the American West. 

Author John L. Smith skillfully captures the drama of the Bundy legal tangle amid the current political climate. Although no shots were fired during the standoff itself, just weeks later self-proclaimed Bundy supporters murdered two Las Vegas police officers and a civilian. In Eastern Oregon, other Bundy supporters occupied the federal offices of the Malheur National Wildlife Refuge, and one of them died in a hail of bullets.

While examining the complex history of federal public land policies, Smith exposes both sides of this story. He shows that there are passionate true believers on opposite sides of the insurrection, along with government agents and politicians in Washington complicit in efforts to control public lands for their wealthy allies and campaign contributors. With the promise of billions of dollars in natural resource profits and vast tracts of environmentally sensitive lands hanging in the balance, the West's latest range war is the most important in the nation's history. This masterful exposé raises serious questions about the fate of America's public lands and the vehement arguments that are framing the debate from all sides.
About the Author
---
Nevada native, John L. Smith is a freelance writer, journalist, and author of more than a dozen books, including The Westside Slugger: Joe Neal's Lifelong Fight for Social Justice. He writes an award-winning weekly column for The Nevada Independent, and is a contributor to Nevada Public Radio's "State of Nevada" and a wide range of publications. An award-winning columnist, in 2016 he was inducted into the Nevada Press Association Hall of Fame.  In the same year, Smith and his colleagues were honored with the James Foley Medill Medal for Courage in Journalism, the Ancil Payne Award from the University of Oregon, and the Society of Professional Journalists Award for Ethics.
 
Praise For…
---
"What this author brings to the table is a deep understanding of Nevada history and the political rivers running through it. Unlike other writers, he understands the state and the players as well as anyone."
—Geoff Schumacher, author of Howard Hughes: Power, Paranoia and Palace Intrigue