To Drink from the Well: The Struggle for Racial Equality at the Nation's Oldest Public University (Paperback)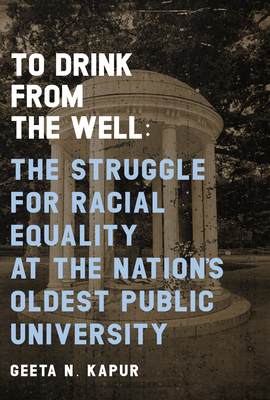 $19.95

Not Available In-Store - Usually Ships from Warehouse in 1-5 Days
Description
---
Law professor and civil rights activist Geeta N. Kapur provides analysis and commentary on the story of systemic racism in leadership, scholarship, and organizational foundations at the University of North Carolina.
The University of North Carolina is the oldest public university in the US, with the cornerstone for the first dormitory, Old East, laid in 1793. At that ceremony, the enslaved people who would literally build that structure were not acknowledged; they were not even present. In fact, 158 years passed before Black students were admitted to this university in Chapel Hill, and it was another 66 years after that before students forcibly removed the long-criticized Confederate "Silent Sam" monument. Indeed, this university, revered in the state and the nation, has been entwined with white supremacy and institutional racism throughout its history--and the struggle continues today.
To Drink from the Well: The Struggle for Racial Equality at the Nation's Oldest Public University explores the history of UNC by exposing the plain and uncomfortable truth behind the storied brick walkways, "historic" statuary, and picturesque covered well, the icon of the campus.
Law professor and civil rights activist Geeta N. Kapur chronicles the racism within the university and traces its insidious effects on students, faculty, and even the venerable Tarheel sports programs. Kapur tells this story not as a historian, but as a citizen speaking to her fellow citizens. She relies on the historical record to tell her story, and where that record is lacking, she elaborates on that record, augmenting and deconstructing the standard chronology. Kapur explores both the Chapel Hill campus and a parallel movement in nearby Durham, where a growing Black middle class helped to create North Carolina Central University, a historically Black public university.
About the Author
---
Geeta N. Kapur is a seasoned civil rights and criminal defense lawyer who has devoted her career to defending poor and oppressed racial minorities. Kapur was the lead pro bono lawyer for the North Carolina's NAACP Moral Monday protests, led by Reverend William Barber and received the prestigious North Carolina NAACP's Humanitarian of the Year Award for her service. She has argued landmark constitutional cases before the North Carolina Supreme Court and Court of Appeals. In 2012, Kapur provided written testimony to the US Senate Judiciary Subcommittee on Constitution, Civil Rights, and Human Rights hearing on the School to Prison Pipeline and in 2015 presented at a US Congress briefing on mass incarceration. She has been recognized by the National Trial Lawyers Association as one of the top 100 criminal defense lawyers in North Carolina. Kapur has appeared on National Public Radio, Radio One, and local television and radio stations. She trained lawyers to respond to the mass protests in Charlotte, North Carolina, over the police murder of Keith Scott. Kapur has taught an innovative pilot course on race and law at University of North Carolina at Chapel Hill and Campbell Law School in Raleigh. Kapur graduated from both the University of North Carolina at Chapel Hill's undergraduate business and graduate law schools. She is a native of Kenya and currently lives in Durham, North Carolina.