The Great Gatsby (Clydesdale Classics) (Paperback)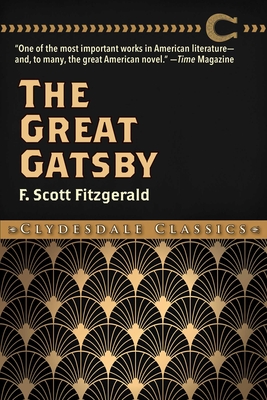 Description
---
"Leaves the reader in a mood of chastened wonder . . . A revelation of life . . . A work of art." —Los Angeles Times

Set in during the Roaring Twenties, this masterful story by F. Scott Fitzgerald is told through the eyes of Nick Carraway, a young man who moves to Long Island and attempts to learn the bond business in New York City after the war. There, he co-mingles on Long Island with his affluent and wealthy socialite cousin Daisy Buchanan, her brute of a husband Tom, and friend Jordan Baker.

Nick's new residence sits across the bay from Daisy and Tom's house, and right next to a mysterious mansion. He begins to hear rumors of an infamous man named Gatsby who resides there. Eventually, when Gatsby learns of Nick's ties to Daisy, he extends Nick an invitation to one of his lavish parties. Gatsby's plan to court Daisy, in an attempt to revive a previous love affair, eventually bubbles to the surface and tragedy ensues.

Dubbed the Great American Novel more than any other piece of literature to date, The Great Gatsby is sure to captivate readers with it's exquisitely crafted prose and poignant message about trying to relive the past.

Packaged in handsome and affordable trade editions, Clydesdale Classics is series of essential literary works. From the musings of literary geniuses such as Mark Twain in The Adventures of Huckleberry Finn, to the striking personal narratives from Harriet Jacobs in Incidents in the Life of a Slave Girl, this new series is a comprehensive collection of our literary history through the words of the exceptional few.
About the Author
---
F. Scott Fitzgerald is often referred to as one of the single-most important authors in modern history. His "Lost Generation" contemporaries included the likes Ernest Hemingway, Gertrude Stein, and other literary giants. At the age of 24, he published This Side of Paradise, which catapulted him to fame. A week later, he married Zelda Sayre, the love of his life, with whom he would spend the remainder of his days in an often-tumultuous but legendary romance. Throughout his career, he penned hundreds of short stories as well as classic books like Tender is the Night, The Beautiful and the Damned, and the widely successful Great Gatsby. He died at the age of 44 from a heart attack, after losing a long-term battle with alcoholism.
Praise For…
---
Praise for The Great Gatsby

"A curious book, a mystical, glamourous story of today." —The New York Times

"One of the most quintessentially American novels ever written." ―Time
 
"The American masterwork, the finest work of fiction by any of this country's writers." ―The Washington Post

"Leaves the reader in a mood of chastened wonder . . . A revelation of life . . . A work of art." —Los Angeles Times

"A remarkable book. . . . It has interested and excited me more than any new novel I have seen, either English or American, for a number of years. . . . . It seems to me to be the first step that American fiction has taken since Henry James." —T.S. Eliot.

"There are many novels which claim that they are the greatest love story of all time. It is only in the case of this novel that that statement can be applied and be true." —The Guardian

"Fascinating . . . His style fairly scintillates, and with a genuine brilliance; he writes surely and soundly." —New York Post

"Were you to lay this thing out by the sentence, it'd be as close as an array of words could get to strands of pearls. "The cab stopped at one slice in a long white cake of apartment-houses"? That line alone is almost enough to make me quit typing for the rest of my life." —The Paris Review