The Classmate (Hardcover)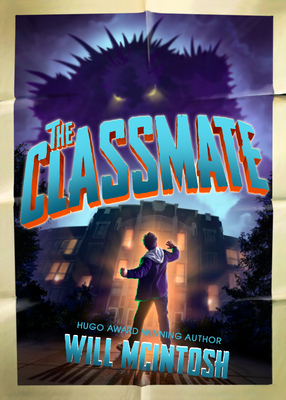 Description
---
Thirteen-year-old Benjamin is pulled from his old life and forced to attend a special boarding school in the middle of nowhere. That's confusing enough. Then, he's fed instructions through an earbud and thrown into etiquette classes alongside an angry, spike-covered creature. Despite wearing purple dresses and having the unassuming name of Eve, the creature is horrifying and, as Eve quickly demonstrates, dangerous.
 
With the help of his new friends Lorena and Persephone, Ben must overcome his own anxieties and uncover the truth about Eve's origin. But he learns that the school's agenda is much bigger than he ever thought possible. Ben needs to earn Eve's trust, and fast. The fate of the world depends on it.
About the Author
---
Will McIntosh is a Hugo Award-winning author who has published eight science fiction novels for adults and young adults. His first book for middle grade readers, Watchdog, was nominated for several awards, and was an Amazon Prime Book Box selection. He was a psychology professor before turning to writing full time, and now lives in Williamsburg, Virginia with his wife and their twelve year-old twins. The Classmate is his second middle grade book.