Mason Goes Mushrooming (Hardcover)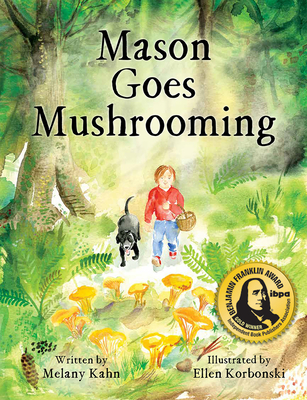 $17.95

Not Available In-Store - Usually Ships from Warehouse in 1-5 Days
Description
---
"Mason Goes Mushrooming captures the wonderful experience of mushroom hunting, a magic that touches both children and adults."  —Eugenia Bone, author of Mycophilia and the Fantastic Fungi Community Cookbook

This first-of-its kind foraging story, Mason Goes Mushrooming takes us on a woodland treasure hunt. We follow a young boy and his four-legged pal, Buddy, to hunt edible mushrooms through lush Vermont landscapes, morels in springtime, chanterelles in summer and black trumpets in autumn. Curious about mushroom foraging or how you can hear the sound of the ocean without leaving the forest? Mason teaches us it's never too early to learn, and never too late to start.

Author (and Mason's mom) Melany Kahn quells common fears and puts the "us" in mushrooms, by weaving simple education through a playful, fungi-finding adventure. Four kid-friendly, forest-to-frying pan recipes highlight the flavor notes of the mushrooms featured. A short identification guide is provided for newbie foragers.

Illustrator Ellen Korbonski enchants with evocative watercolors capturing the beauty of the mushrooms, the thrill of the hunt, and Mason's fertile imagination, in a style that pings with the charm and timelessness of an enduring classic.
About the Author
---
Author Melany Kahn started hunting for mushrooms in Vermont in 1968 when her family bought a farm in West Brattleboro. She attended Wesleyan University, (BA, English/Creative Writing). She holds a Masters in Social Work from Boston College and MFA in Film from The Tisch School at NYU where she met her illustration collaborator, Ellen Korbonski. Melany lives in New Hampshire with her husband and children, and you can find her leading mushroom walks or foraging at every opportunity. Mason Goes Mushrooming is her first book.

Illustrator Ellen Korbonski has lived and worked in New York City for over thirty years. Originally drawn to theatre and fine art, she has also studied filmmaking and freelanced as a graphic designer. Following the birth of her first child, Ellen landed a job at a children's picture book publisher. Immediately, she fell in love with the genre and eventually tried her hand at illustration. Ellen lives in Harlem with her jazz-pianist husband and two amazing daughters.
Praise For…
---
"Mason Goes Mushrooming is the perfect book for this moment. A boy and his dog teach us the basics of foraging in a fun and beautiful picture book." —Nancy Braus, Owner, Everyone's Books, Brattleboro, VT

"Mason Goes Mushrooming captures the wonderful experience of mushroom hunting, a magic that touches both children and adults." —Eugenia Bone, Author, Mycophilia, and the Fantastic Fungi Community Cookbook, featured in Netflix documentary, Fantastic Fungi

"If I had found Mason Goes Mushrooming in the library when I was a first grader, my love for mushrooms would have blossomed before I was ten. What a delightful and unique book! Melany Kahn—whose love for teaching children about nature I've seen firsthand—proves that mushrooms are for kids, too. I can't wait to share this book with my young grandchildren." —David William Fischer, Mycologist, American MushroomTM, author, Edible Wild Mushrooms of North America

"Mason's love of mushroom foraging is at the heart of mindfulness: expanding one's heart through deep connection to the natural world. Thank you, Melany Kahn, for your knowledge of mushrooms and showing us how everything is connected!" —Lauren Alderfer, author of Mindful Monkey and Happy Panda

"I wish I'd had this book when I was a kid--a real gift for anyone inclined towards the outdoors!" —Bill McKibben, author of We Are Better Together

"I love Mason Goes Mushrooming, reminding me of the wonder of the forest, more importantly, my 2 and 4 year old sons love it too." Eben Bayer - CEO and Co-Founder of Ecovative, mycelium materials pioneer.

"Mason's enthusiasm for collecting mushrooms is palpable. After his mushrooming adventures, he's pictured with one adult inspecting the finds and then cooking: a morel omelet, pasta with chanterelles, lobster sauté, and crispy black trumpet chips. Korbonski's watercolor illustrations are evocative." —Mahnaz Dar, Young Readers' Editor, Kirkus Reviews

"Melany Kahn has written the perfect introduction to foraging mushrooms—using skillful narrative she walks us through the seasons of foraging, with just the right amount of detail and caution. This is the perfect jump-off for families and educators, with exquisitely detailed watercolors that evoke warmth and also convey a sense of accuracy. This is a must-have for all bookshelves." —Bear Pond Books

"Mason Goes Mushrooming is an engaging children's story that teaches about the adventure and fun of foraging in the woods and covers several science standards, such as biodiversity, structure and function, information and processing, and ecosystems. The watercolor illustrations by Ellen Korbonski are beautiful and imaginative. Foraging for mushrooms also teaches mindfulness. When searching for mushrooms, you focus and slow down." —Eva Gordon, THE MYCOPHILE magazine of NAMA

Mason Goes Mushrooming won the 35th Annual IBPA Benjamin Franklin Award - BEST NEW VOICE: CHILDREN'S / YOUNG ADULT among thousands of submissions.