The Land of Vikings & Trolls: Cody the Cockatrice Series Book Two (Paperback)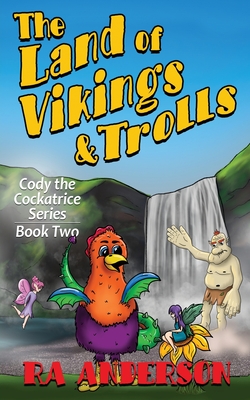 $12.99

Not Available In-Store - Usually Ships from Warehouse in 1-5 Days
Description
---
Cody is not just a dreamt-up creature. Cody is a Cockatrice. He's a blood cousin of dragons, fathered by a rooster, mothered by a lizard, and hatched by a toad. He can fly over one-hundred miles per hour, twice the speed of a hummingbird, and is invisible to everyone who doesn't believe. He's five thousand times stronger than a human and only twelve inches tall from head to tail. Oh, did I mention that Cody is over a thousand years old?
Brody and his two brothers know Cody is not make believe. These three brothers have underlying health issues, and Cody's powers give him the keen ability to help them in more ways than ever imagined. More than their Cockatrice-godparent, he's their companion and friend. After their family adventure in Switzerland, the brothers thought they would never see their little friend again, but Cody joined them on the flight home to the United States of America.
Now about to embark on another adventure, this time to Iceland for a family member's destination wedding, they will explore this Viking founded Artic nation's glaciers, volcanoes, and several hidden gems. Nowhere on Earth is the land so alive and magical, and somehow Cody's hidden abilities are awakening from the unknown. Trying to figure out what is happening to him, Cody travels into the living ground where he meets friendly and not so friendly trolls, encounters pixies full of mischievousness, and makes friends with beloved clowns of the sea, puffins. As his new powers are revealed and old acquaintances found, will Cody stay in Iceland forever?