The Grandparents Book of Memories: 100 Questions to Recall The Times of Your Life (Hardcover)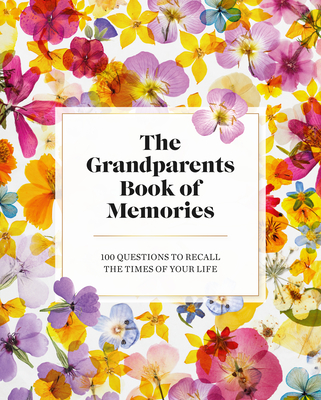 Description
---
Capture a life of unique memories and experiences for future generations. Grandparents can fill out this beautiful time-capsule journal to preserve their legacy.
This beautifully designed guided journal will inspire thoughtful reflection on a life well lived and spark meaningful, authentic conversation between multiple generations. With more than 100 prompts designed to uncover significant and even forgotten moments from the past, this is a special gift for Mother's Day, Father's Day or a grandparent's birthday that will bring everyone many happy hours of reminiscing with loved ones.
Questions highlight different stages of life from childhood and schooldays, to early adulthood and raising a family and beyond. Chapters themes and questions include:
Love: What act of love will you always remember?
Friendship: Who was your greatest childhood friend? What adventure or mischief do you remember getting up to together?
Wisdom: What words of wisdom would you like to be your legacy?
Curiosity: What subject or pursuit has always interested you?
Courage: How does courage help you manage change and challenges?
Resilience: What obstacles did you have to overcome?
Rituals: What foods did you have as a child that will always remind you of family?
Happiness: What place has always made you feel happy?
Gratitude: Is there a historic or momentous event that you are grateful you witnessed in your lifetime?
This easy-to-use journal will create a meaningful family keepsake. Inside you'll find:
Plenty of space to share stories and to offer advice for a younger generation
Beauitful floral illustrations and inspirational quotes throughout
Lay flat binding and uncoated paper to prevent ink smudges
This book of wisdom, once filled in, offers a stunning handwritten testament to the past that will strengthen family connections and preserve precious memories.
About the Author
---
Jane Francisco is the editor in chief of Good Housekeeping and the Editorial Director of the Hearst Lifestyle Group where she oversees and develops content that caters to the modern women across multiple platforms for Good Housekeeping, Women's Day, Dr. Oz The Goodlife and Prevention. Jane lives with her husband and son in New Jersey.