In the Shadow of Mt. Diablo: The Shocking True Identity of the Zodiac Killer (Paperback)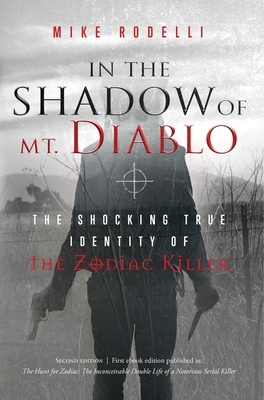 $24.95

Not Available In-Store - Usually Ships from Warehouse in 1-5 Days
Description
---
"a worthy, if not definitive, addition to the body of Zodiac knowledge." — Kirkus

"It is no exaggeration to call the identity of the Zodiac Killer the most maddening unsolved crime in American history...But it is also no exaggeration to say that Mike Rodelli's case stands above them all" — Tom Zoellner, Author and Former Reporter for the San Francisco Chronicle

In June 1999, Mike Rodelli had an idea that had never occurred to a generation of detectives in the San Francisco Bay Area. This led him to a new suspect in the Zodiac case and began a twenty-year odyssey to prove that this man was the Zodiac Killer. In the Shadow of Mt. Diablo: The Shocking True Identity of the Zodiac Killer is filled with original information about the mystery, including DNA and behavioral profiling that resulted directly from his twenty years of intensive research. Rodelli provides the reader with an objectively researched, fully documented book that is meticulously footnoted, and which shows that, against all odds, he has solved a case many said would never yield its dark secrets.
About the Author
---
Mike Rodelli was born in Woodside, Queens, New York. In the 1960s he spent a good part of his youth playing sports in schoolyards. When Mike was a teenager, he saw a TV show about Jack the Ripper, which prompted a lifelong interest in puzzling over unsolved mysteries. Little did he know that, some thirty years later, his interest in serial killers would reshape his life and send him on a quest to bring the Zodiac Killer to justice.

Mike holds a BA in biology from Montclair State University and a master's degree in biological oceanography from the University of Rhode Island. When a controversial DNA sample in the Zodiac case appeared to rule out his suspect in 2002, his background in natural science proved to be critical in assessing and eventually overcoming that decision. His interest in thoroughbred horse racing likewise would serve him well in both understanding and gathering evidence on his suspect, an entrepreneur and a wealthy horse owner.
Since 2000, Mike's research on the Zodiac has been covered in several articles in the San Francisco Chronicle. In 2002 he appeared on the ABC News program Primetime Thursday. In May 2018 his book, The Hunt for Zodiac: The Inconceivable Double Life of a Notorious Serial Killer, was the subject of an article in the Los Angeles Review of Books by Tom Zoellner, "The Serial Killer as a Marketing Genius." In addition, Mike was a contributor with screen credit on the acclaimed 2007 feature film, Zodiac, by David Fincher/Warner Brothers, which starred Robert Downey, Jr. and Jake Gyllenhaal.

Mike currently lives in Atlantic City, NJ. When not chasing serial killers, he is an avid New York Mets and Rangers fan. He enjoys tackling the Sunday New York Times crossword and occasionally declares victory over it. Mike also reads voraciously and eclectically and is working on two new true-crime books.
Praise For…
---
"It is no exaggeration to call the identity of the Zodiac Killer the most maddening unsolved crime in American history. Tens of millions of words have been spilled on various theories. But it is also no exaggeration to say that Mike Rodelli's case stands above them all for the depth of his research, the ingenuity of his insights, the lucid quality of his prose, the bulldoggedness of his dedication and his calmly methodical way of showing how the violence might have emanated from the highest levels of San Francisco society. Not everyone will agree with his startling conclusion to the case, but connoisseurs of true crime can certainly agree that Rodelli has made himself into a reluctant master of the genre: a detective's sensibility matched with a novelist's talent for storytelling. Had he been in Bay Area law enforcement when Zodiac was active, we might not have needed this book."
— Tom Zoellner, Author and Former Reporter for the San Francisco Chronicle

"...Fascinating analysis of the Zodiac killer deaths...intellectually stimulating and informative"
— Dr. Cyril Wecht, World-renowned forensic pathologist, true-crime author, attorney and medico-legal consultant.

"Rodelli employed behavioral profiling and analysis as well as controversial DNA to build an impressive case against this seemingly unusual suspect ...I was unquestioningly impressed with the author's investigative acumen and absolute perseverance"
— Cmdr. (Ret) NYPD Vernon J. Geberth, Author of Practical Homicide Investigation.

"…[Rodelli] writes in this voluminous account of his endeavors that is a worthy, if not definitive, addition to the body of Zodiac knowledge. Like Michelle McNamara, who described her meticulous pursuit of the Golden State Killer in I'll Be Gone in the Dark (2018), Rodelli leaves no stone unturned…A thorough, rigorous Zodiac account…"
— Kirkus