The Ultimate 1 Year Old Activity Book: 100 Fun Developmental and Sensory Ideas for Toddlers (Early Learning #6) (Paperback)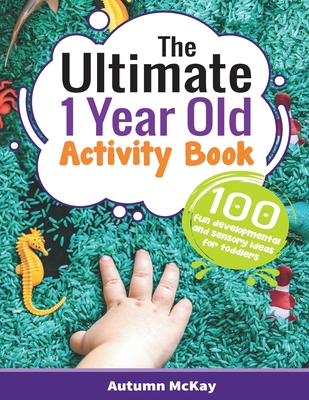 $12.99

Not Available In-Store - Usually Ships from Warehouse in 1-5 Days
Other Books in Series
This is book number 6 in the Early Learning series.
Description
---
We all want our 1 year old to be happy, grow developmentally, and have fun - but how do we help them engage their minds?
You no longer have to waste time searching for age-appropriate activities. Now you can enjoy the ultimate collection of 1 year old fun that can be ready in minutes
Autumn McKay, author of The Ultimate Toddler Activity Guide, is a mother of 3 children and understands the pressure to entertain a toddler but the continuous time constraints of motherhood. As a former schoolteacher, she has created low-prep activities that are proven to spark a 1 year old's interest and curiosity. (Kindle has a digital code included to download and print handouts).
WHY THIS BOOK?
★SAVE TIME - Forget scrolling through social media or blogs for ideas; now you have a quick guide for having fun while teaching your 1 year old
★LEARN THROUGH PLAY- These short sensory activities help spark a 1 year old's interests.
★GIVE YOUR CHILD A HEAD START- Your toddler is naturally curious, so help your toddler learn key developmental milestones through play. This book is recommended for children 10 months to 24 months old.
★DIGITAL DOWNLOAD INCLUDED- A download code is included so you can download a sneak peek of Autumn's other books.
WHAT IS IN THE BOOK?
✅ This book includes 100 activities
✅ Each activity has a materials list and detailed instructions.
✅ Each activity is labeled with the skill your child will focus on during the activity-sensory, fine motor skills, gross motor skills, outdoor, crafts, or independent.
✅ There are 55 low prep activities--that means the prep time is only 1 or 2 minutes
✅ This book will allow you and your 1 year old to share quality bonding time together
CAN A BUSY MOM USE THIS BOOK?
✅ Sure These activities are made for busy moms A few minutes will be needed for you to round up the supplies (and your toddler )
✅ Each activity takes about 5-10 minutes.
✅ If certain days are busy for you, schedule around them and only plan on doing the activities on days that work best for you and your little one.
✅ Of course, there are days where things feel too hectic, but just hang in there We may feel too busy to do the activities, but our toddlers aren't too busy to learn and have fun
Other Books Include: Toddler Lesson Plans: Learning Colors, Toddler Lesson Plans: Learning ABCs, The Ultimate Preschool Activity Guide, The Ultimate Kindergarten Prep Guide, Learning Numbers Workbook, Learning ABC's Workbook, Learning Preschool Math Workbook, Learning Kindergarten Math Workbook, Learning 1st Grade Math Workbook
Hours of fun are waiting for you and your toddler Save your sanity and purchase a copy today.