I Will Die in a Foreign Land (Hardcover)
All books purchase through Changing Hands will be autographed by the author.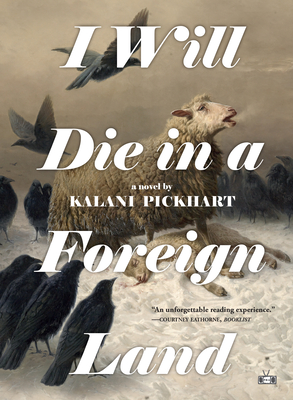 $25.00

Special Order - Subject to Availability
Staff Reviews
---
I have never felt quite so speechless when finishing a book. This debut novel - unassuming in its size and yet sharp and intense in its story - completely caught me off guard. Pickhart depicts the ongoing conflict in Ukraine, where Russia has long kept a tight hold and refused to recognize its status as an independent nation. In 2013, the Ukrainian Revolution and the ongoing War in Donbass broke out, as then-President Yanukovych refused to sign a referendum with the European Union, forging a closer alliance with Russia. This story follows four characters as they fight to secure sovereignty for their country and safety for their loved ones. Pickhart seems to write in the empty space between conflicts, in which life continues despite the hardships of war, and she shows the resiliency of the individual in the face of oppression - the need to find beauty and love amidst destruction. Incredibly complex, heartbreaking, and insightful, this novel is an urgent argument for the presence of humanity in a time of violence. — From Natalie's Picks (picks 2)
November 2021 Indie Next List
---
"Camera-eye perspective of the Ukraine Euromaidan protests — if John Dos Passos and John Reed joined Pussy Riot — rich, variegated characters, tense plot. A must read for anyone inclined toward world literature."
— Conor Hultman, Square Books, Oxford, MS
Description
---
* 2022 Young Lions Fiction Award, Winner.
* A BookBrowse "20 Best Books of 2022"
* VCU Cabell First Novelist Award, Longlist.
* An ABA "Indie Next List" pick for November 2021.
* "A Best Book of 2021" --New York Public Library, Cosmopolitan, Independent Book Review
* "October 2021 Must-Reads" --Debutiful, The Chicago Review of Books, The Millions
In 1913, a Russian ballet incited a riot in Paris at the new Th tre de Champs-Elys es. "Only a Russian could do that," says Aleksandr Ivanovich. "Only a Russian could make the whole world go mad."
A century later, in November 2013, thousands of Ukrainian citizens gathered at Independence Square in Kyiv to protest then-President Yanukovych's failure to sign a referendum with the European Union, opting instead to forge a closer alliance with President Vladimir Putin and Russia. The peaceful protests turned violent when military police shot live ammunition into the crowd, killing over a hundred civilians.
I Will Die in a Foreign Land follows four individuals over the course of a volatile Ukrainian winter, as their lives are forever changed by the Euromaidan protests. Katya is an Ukrainian-American doctor stationed at a makeshift medical clinic in St. Michael's Monastery; Misha is an engineer originally from Pripyat, who has lived in Kyiv since his wife's death; Slava is a fiery young activist whose past hardships steel her determination in the face of persecution; and Aleksandr Ivanovich, a former KGB agent, who climbs atop a burned-out police bus at Independence Square and plays the piano.
As Katya, Misha, Slava, and Aleksandr's lives become intertwined, they each seek their own solace during an especially tumultuous and violent period. The story is also told by a chorus of voices that incorporates folklore and narrates a turbulent Slavic history.
While unfolding an especially moving story of quiet beauty and love in a time of terror, I Will Die in a Foreign Land is an ambitious, intimate, and haunting portrait of human perseverance and empathy.
"Kalani Pickhart's timely debut novel, I Will Die In a Foreign Land, is about the 2014 Ukrainian revolution which provided a pretense for Russia to annex Crimea. The story follows the experiences of several characters whose lives intersect as the country's political situation deteriorates. There's a Ukrainian-American doctor, an old KGB spy, a former mine worker, and others, and these episodes are interspersed with folk songs, news reports and historical notes. The effect--kaleidoscopic but never confusing--provides an intimate sense of a country convulsing, mourning, and somehow surviving."
--CBS News, "The Book Report: Recommendations from Washington Post critic Ron Charles"
(Watch the full video on CBS News, February 6, 2022).