Six Walks: In the Footsteps of Henry David Thoreau (Hardcover)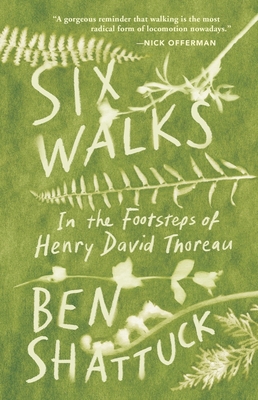 Staff Reviews
---
Following in the footsteps of Henry David Thoreau, Shattuck's ruminations on life, love, and nature capture perfectly the strange sensation of knowing we'll never see that same untamed wild Thoreau wrote so passionately about a century and half ago. But even in a world where paths have been paved and meadows trimmed, the essays collected here remind us that walks in nature—much like our relationships to other people—are as much a creation of our minds as they are a physical experience. And they are to be treasured, always.
— From
Anna's Picks
Description
---
A New England Indie Bestseller
A New York Times Best Book of Summer, a Wall Street Journal Best Book of Spring, a Town & Country Magazine Must Read Book of Spring, and a Rumpus Most Anticipated Book of the Year
"A gorgeous reminder that walking is the most radical form of locomotion nowadays." —Nick Offerman

"I think Thoreau would have liked this book, and that's a high recommendation." —Bill McKibben, author of The End of Nature
On an autumn morning in 1849, Henry David Thoreau stepped out his front door to walk the beaches of Cape Cod. Over a century and a half later, Ben Shattuck does the same. With little more than a loaf of bread, brick of cheese, and a notebook, Shattuck sets out to retrace Thoreau's path through the Cape's outer beaches, from the elbow to Provincetown's fingertip.
This is the first of six journeys taken by Shattuck, each one inspired by a walk once taken by Henry David Thoreau. After the Cape, Shattuck goes up Mount Katahdin and Mount Wachusett, down the coastline of his hometown, and then through the Allagash. Along the way, Shattuck encounters unexpected characters, landscapes, and stories, seeing for himself the restorative effects that walking can have on a dampened spirit. Over years of following Thoreau, Shattuck finds himself uncovering new insights about family, love, friendship, and fatherhood, and understanding more deeply the lessons walking can offer through life's changing seasons.
Intimate, entertaining, and beautifully crafted, Six Walks is a resounding tribute to the ways walking in nature can inspire us all.
About the Author
---
Ben Shattuck, a former Teaching-Writing Fellow and graduate of the Iowa Writers' Workshop, is a recipient of the PEN/Robert J. Dau Short Story Prize and a 2019 Pushcart Prize. He is the director of the Cuttyhunk Island Writers' Residency and curator of the Dedee Shattuck Gallery. His writing can be found in the Harvard Review, The Common, the Paris Review Daily, Lit Hub, and Kinfolk Magazine. He lives with his wife and daughter on the coast of Massachusetts, where he owns and runs a general store built in 1793.
Praise For…
---
Lyrical. . . . The author's comedic talents are formidable and the characters he creates are hard to forget.
— The Wall Street Journal

Resonant. . . . With its lovely illustrations and thoughtful insights about nature, love, and friendship, Six Walks celebrates taking time to see what really matters.

— The Christian Science Monitor

Comforting. . . . it's the sweetness in the sorrow that is captured in this writing, along with the natural world's endless invitation to solace.
— The New York Times

Shattuck's main message is the primacy of love, for both the people around us and the world we inhabit.
— The New Yorker

Part of the fun in Six Walks is how today's reality—and Shattuck's sense of humor—take over.

— The Boston Globe

A poignant tribute to nature.
— Town & Country

Brilliant. . . . A momentous landmark in time, reminding us of what might be lost in this world and what must be preserved.
— The Rumpus

Humble and sincere. . . . he gleans new insight into masculinity, intimacy, climate change, and the politics of outdoor spaces. 
— Poets & Writers

Moving. . . . Six Walks witnesses how, in every season, choosing to step into the natural world can lead to healing and peace.

— Chicago Review of Books

A love letter to New England's natural world and the timeless revelations that walking in nature gives to us.
— The Arkansas International

Shattuck's descriptions match Thoreau in their beauty and sincerity.
— The Provincetown Independent

A gorgeous reminder that walking is the most radical form of locomotion nowadays.
— Nick Offerman

I think Thoreau would have liked this book, and that's a high recommendation.
— Bill McKibben, author of The End of Nature

Walking as means of healing, walking as a way of seeing what's there, walking as a method of pulling you out of yourself and rejoining the world—in this beautiful, smart, and moving book, Ben Shattuck shows us where putting one foot in front of the other can take us. Thoreau's footsteps serve as map, but Shattuck has made a fresh journey right into the heart of things. In painterly prose, he brings us along on his walks and proves the best sort of guide: curious, open to the chance encounter, deeply attuned to rhythms natural and personal and to the strange joys to be found even in periods of pain. Most of all, he reminds us, every step of the way, of what's on offer every time we walk out the door.
— Nina MacLaughlin, author of Summer Solstice: An Essay

By walking in Thoreau's footsteps, Ben Shattuck ends up following the long trail left by wandering thinkers and writers like Rousseau, Muir, Walser, Benjamin, and Solnit. Along the way, Six Walks offers a moving meditation on nature and history—and what our precarious place between these two realms may be.

— Hernan Diaz, author of In the Distance

Inspired by Thoreau, but soon onto something that is very much his own, Ben Shattuck takes us on a journey that bores into the history of both himself and his native New England.  A book of loss and redemption, fear and fragile hope, Six Walks is rich, evocative, and like the boat gunwale that cuts off the tip of his finger, unexpectedly dangerous—in that best of Thoreauvian ways.

— Nathaniel Philbrick, author of In the Hurricane's Eye

What a very beautiful book. Every page is a pleasure. Charming, insightful, and full of humanity, this gem reminded me how profound it can feel to simply walk the earth.
— Karen Thompson Walker, author of The Dreamers

A beautiful and thought-provoking journey of discovery, which will leave you very glad that you walked a while with Ben Shattuck.
— Eric Jay Dolin, author of Rebels at Sea

Ben Shattuck asks of Thoreau 'Why was it so comforting to read this antique account of winter and loss?'—and I felt the same about Shattuck's book. A beautiful account of wandering through a season of illness and loss, and walking with Thoreau into the light.
— Casey Walker, author of Last Days in Shanghai

A joy to read.
— Provincetown Magazine

Intimate, entertaining and beautifully crafted, Six Walks is a tribute to the ways nature can inspire us all.

— Pinestraw Magazine

Very satisfying as a work of naturalism, literary criticism, and self-discovery memoir.
— Mind Picker

Moving. . . . For contemplative readers, this may be the perfect beach read.
— On the Seawall

Poetic. . . . Wistful and meditative, sparked by lovely prose.
— Kirkus Reviews

Shattuck's involving and poignant chronicle of immersions in nature, misadventures, family history, and a love story is shaped by his preternatural gift for discerning the essence of each moment and each place.
— Booklist, Starred Review

Resplendent. . . . Echoing Thoreau's brilliant reflections with his own, Shattuck distills the healing power of nature into a narrative that's a pure pleasure to wander through. Fans of Annie Dillard will find this mesmerizing.
— Publishers Weekly, Starred Review