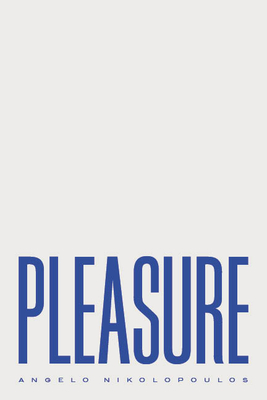 $16.95

Special Order - Subject to Availability
Description
---
PLEASURE is a book-length poem which muses on the phenomenology of solitude in a pastoral landscape, written in a diaristic, lyric mode, where the queer "I" alternately savors the decadence of isolation and stands at the precipice of despair. A travelogue in verse, PLEASURE takes place in Syros, the Greek island to which author Angelo Nikolopolous travels a few weeks after the discovery of his mother's brain tumor. These intertextual, elliptical explorations of solitude and sensuality interweave images of seaside roaming, secluded town life, and ephemeral sexual encounters with the ubiquitous implication of death—the waning summer, the ill, perhaps dying, mother. Staring down true disconnection—both physical and psychic orphanhood —Nikolopoulos writes about the thrill and sadness of turning your back against the world and those in it only to rediscover that which tethers all to human experience: the quotidian, singular pleasures of having a body.
About the Author
---
Angelo Nikolopoulos is the author of Obscenely Yours (Alice James Books) and PLEASURE. His poems have appeared in Best American Poetry, Best New Poets, Boston Review, Fence, The Los Angeles Review, Tin House, and elsewhere. Winner of the 2011 "Discovery" / Boston Review Poetry Contest, he has received fellowships from the Jerome Foundation, MacDowell Colony, and the Saltonstall Foundation for the Arts. A former Teach for America high school teacher, he has taught Creative Writing at New York University and Rutgers University. He teaches at Hunter College and lives in Brooklyn, New York.
Praise For…
---
"PLEASURE is a refined, sustained lyric on joy, arousal, solitude, and the art of being a single queer man in a world that wants everything paired up like spice shakers or kidneys. Abasement and abandonment rear their sweet heads, too, and are not shame markers but elations. Fifty years after Stonewall we are still learning how to lift ourselves up as worthy recipients of pleasure in its finest gladrags."
—D.A. Powell
"PLEASURE is an elegant poem/essay on family, on solitude, on expatriation; on self-constitution through reading and literary absorption. Nikolopoulos's specificity about erotic encounters is enchanting and ethically succulent—worthy of his predecessors and models: Genet, Barthes, Guibert. It is thrilling to see how these poems emerge from the emergencies and delectations of daily experience; thrilling to see how the poet has made, of his tempests and agons and inspirations, a new form, a new way of being lyrical, experimental, libidinous, all at once. Maybe the least fussy and the most direct thing I could say is that I couldn't stop reading the book once I'd started: never did a hitch or solecism or doldrum impede my pleasure."
—Wayne Koestenbaum
"These poems almost feel translated; the thereness is mature, half a song, blatant. PLEASURE
is such a beautiful book."
—Eileen Myles    
"I love PLEASURE
, 
especially when it hurts, or when it is about hurting. I want to use all the contradictions to describe these poems: sexy, indecent, filthy in all the right ways, while at the same time precise, somehow decorous, syntactically exact. I don't know how Nikolopoulos manages to write in a voice that feels both hyper-contemporary and timeless; but here is a thrilling, staggering talent."
—Justin Torres