Of Heart and Stone (Paperback)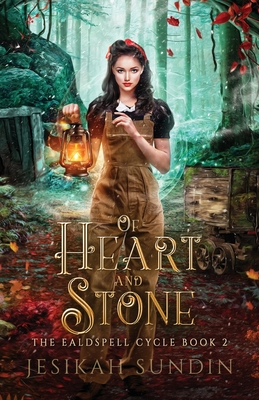 $18.99

Not Available In-Store - Usually Ships from Warehouse in 1-5 Days
Description
---
She has a heart of stone.
A heart he is fated by the faeries to break.
Eirwen Blackvein grew up in a dwarven mining camp at the edge of the map. A perfect place to hide an elven princess destined to destroy a queen and save a kingdom at war, as foretold in a seer's magic mirror. Except, Eirwen doesn't know she is the lost princess. Only that she was found as a newborn with her heart carved out. And why she now possesses a heart of stone in her chest.
A heart made from the black stone she mines to power weapons for her realm's king.
The same enchanted stone coveted by a neighboring queen to destroy an entire kingdom.
Eirwen's only desire is to protect her workers. Even if it means kidnapping Lieutenant Prince Florian Halivaard, the youngest son of a warmongering king she discovers half-dead outside of the Dark Forest.
With monarchs from different kingdoms willing to kill for her heart's magic, Eirwen finds herself at the center of a losing battle. Her only chance to protect those she loves and defend her kingdom is to trust her enemy-a prince with haunting silver eyes fated by the faeries to one day meet a heart of stone.
A heart he will break.
OF HEART AND STONE is a young/new adult elven faerie tale fantasy spin on the romantic tale of Snow White, blending faerie magic and pagan ritual with a 1930s-1940s wartime inspired setting. Guaranteed to please readers who love angsty, enemies-to-lovers fated romances, twisted fairy tales, and strong found family themes.
STANDALONE in a connected series / shared world. Books can be read in any order.
Guaranteed happily ever after