Laziness Does Not Exist (Hardcover)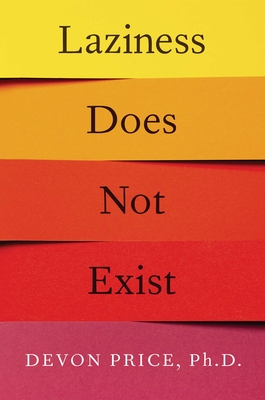 $27.00
Email or call for price.
Description
---
From social psychologist Dr. Devon Price, a conversational, stirring call to "a better, more human way to live" (Cal Newport, New York Times bestselling author) that examines the "laziness lie"—which falsely tells us we are not working or learning hard enough.

Extra-curricular activities. Honors classes. 60-hour work weeks. Side hustles.

Like many Americans, Dr. Devon Price believed that productivity was the best way to measure self-worth. Price was an overachiever from the start, graduating from both college and graduate school early, but that success came at a cost. After Price was diagnosed with a severe case of anemia and heart complications from overexertion, they were forced to examine the darker side of all this productivity.

Laziness Does Not Exist explores the psychological underpinnings of the "laziness lie," including its origins from the Puritans and how it has continued to proliferate as digital work tools have blurred the boundaries between work and life. Using in-depth research, Price explains that people today do far more work than nearly any other humans in history yet most of us often still feel we are not doing enough.

Filled with practical and accessible advice for overcoming society's pressure to do more, and featuring interviews with researchers, consultants, and experiences from real people drowning in too much work, Laziness Does Not Exist "is the book we all need right now" (Caroline Dooner, author of The F*ck It Diet).
About the Author
---
Dr. Devon Price is a social psychologist and professor at Loyola University of Chicago's School of Continuing and Professional Studies. His work has appeared in Slate, Business Insider, Financial Times, HuffPost, Psychology Today, and on NPR and PBS. He lives in Chicago, Illinois.
Praise For…
---
"What a breath of fresh air. This is the book we all need right now! We are burnt out. We are operating under subconscious beliefs about productivity and busyness and worth that are depleting us daily. And we are making ourselves sick and miserable in the process- but there's a better way. This book will help you understand "laziness" and look at yourself (and others) with compassion, and create a more sustainable and joyful life."—Caroline Dooner, author of The F*ck It Diet

"Price examines the main tenets of the "Laziness Lie," seamlessly weaves vignettes into their narrative, and offers tips to help mitigate the pressure we all feel to push ourselves beyond what is healthy or necessary. The ultimate goal is letting go of guilt and increasing happiness. With particular impact for those in managerial positions, Price's important and eye-opening book will benefit every reader."—Booklist

"Overload should be a sign that you have a problem, not a source of pride. Devon Price offers hope to the chronically busy: there's a better, more human way to live." — Cal Newport, New York Times bestselling author of Digital Minimalism and Deep Work

"If learning how to be more productive in the new year is part of your resolution, this is not the book for you. But if understanding why you think you need to aspire to that goal and how to learn "to be more comfortable with being less productive than society" says you ought to be, it is definitely worth a read."—Financial Times

" Using examples from social psychology research, interviews, and their own life, Price argues that there's real value in quiet time, and that working less can actually make you more creative, effective, and content."—SHAPE

"Price takes a cleareyed look at the science and psychology behind the concepts of laziness and productivity...With tips on setting boundaries and integrating beneficial techniques like expressive writing into your daily routine, Price's book will give you a fresh perspective on the meaning of success—and the confidence to schedule more "me-time" this year."—Bookpage

"Price's first book. Laziness Does Not Exist (Atria Books) is a science-based self-help manual for those run roughshod by capitalism... It's an accessible read..."—Chicago Reader

"With a clarion call tailor-made for new work-at-homers who can no longer leave work at work, the author gives readers plenty of reason to kick back and put their feet up sometimes, showing that doing so can actually enhance productivity. Not just for the overachiever, this book should sit on the desk next to every home printer and cubicle keyboard. Find "Laziness Does No Exist," stretch, take a comfortable seat and you're in a good position to enjoy."—Nashville Ledger

"While the exploration in the book is nuanced and thorough...Price's book does not argue that hard work isn't good or that we are without flaw. Instead, it asks us to go deeper to understand what a world oriented around helping people thrive, rather than dismissing them as lazy, may look like."—Chicago Tribune

"In their conversational and engaging first book... Social psychologist Devon Price makes the thoughtful and science-backed case for why laziness is not only acceptable but necessary."—SHELF AWARENESS