The Last Cold Place: A Field Season Studying Penguins in Antarctica (Hardcover)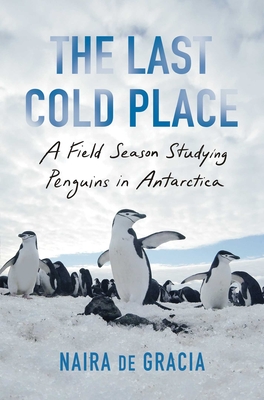 Description
---
Lab Girl meets Why Fish Don't Exist in this "compelling blend of memoir, environmental writing, and scientific exploration" (Kirkus Reviews) from a young scientist studying penguins in Antarctica—a firsthand account of the beauty and brutality of this remote climate, the direct effects of climate change on animals, and the challenges of fieldwork.

Offering a dramatic, captivating window into a once-in-a-lifetime experience, The Last Cold Place details Naira de Gracia's time living and working in a remote outpost in Antarctica alongside seals, penguins, and a small crew of fellow field workers. In one of the most inhospitable environments in the world (for humans, anyway), Naira follows a generation of chinstrap penguins from their parents' return to shore to build nests from pebbles until the chicks themselves are old enough to head out to sea.

Naira describes the life cycle of a funny, engaging colony of chinstrap penguins whose food source (krill, or small crustaceans) is powerfully affected by the changing ocean in lively and entertaining anecdotes. Weaving together the history of Antarctic exploration with climate science, field observations, and her own personal journey of growth and reflection, The Last Cold Place illuminates the complex place that Antarctica holds in our cultural imagination—and offers a rare glimpse into life on this uninhabited continent.
About the Author
---
Naira de Gracia grew up moving around the world with her journalist parents and sibling. She graduated high school in Cairo, Egypt, and attended college in California. After completing her BA in biology, she worked as a wildlife technician for six years, on remote islands in the Hawaiian chain, the Antarctic, the Samoan archipelago, the Bering Sea and off the coast of California, continuously writing about her experiences. She currently lives in Wellington, New Zealand. The Last Cold Place is her first book.
Praise For…
---
"A compelling blend of memoir, environmental writing, and scientific exploration ... An intriguing, introspective account."
—Kirkus

"de Gracia spent five months as a field worker gathering data on penguins on Antarctica's Livingston Island during 2016 and 2017… [she adds] personal flair to this quick read for penguin lovers."
—Booklist

"A well-written memoir of a scientific field study season. De Gracia engages and pulls the reader into the Antarctic summer, its climate, and its creatures; the penguins are, of course, completely enchanting."
—Library Journal

"On the light-washed shores of Cape Shirreff, de Gracia finds meaning in a wilderness seemingly untouched by human presence. In her hands, a book about penguins in a time of climate change transforms into a poignant exploration of how to make sense of one's life, and how best to use it."
—Sarah Stewart Johnson, planetary scientist, Antarctic researcher, and author of The Sirens of Mars

"Naira de Gracia is the Jane Goodall of penguins we didn't know we needed. This masterful memoir is like a literary Blue Planet: de Gracia's gorgeous, cinematic prose brings us into the lives of pebble-pilfering penguins and wallowing seals, capturing the sublime natural beauty of a remote and frozen continent whose survival is deeply intwined with our own."
—Jennifer Worley, author of Neon Girls