10% Happier: How I Tamed the Voice in My Head, Reduced Stress Without Losing My Edge, and Found Self-Help That Actually Works--A Tr (Compact Disc)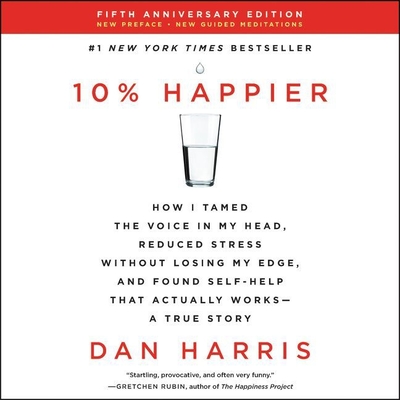 $34.99

Not Available In-Store - Usually Ships from Warehouse in 1-5 Days
Description
---
#1 New York Times Bestseller
Winner of the 2014 Living Now Book Award for Inspirational Memoir
An enormously smart, clear-eyed, brave-hearted, and quite personal look at the benefits of meditation.--Elizabeth Gilbert
Nightline anchor Dan Harrisembarks on an unexpected, hilarious, and deeply skeptical odyssey through the strange worlds of spirituality and self-help, and discovers a way to get happier that is truly achievable.
After having a nationally televised panic attack, Dan Harris knew he had to make some changes. A lifelong nonbeliever, he found himself on a bizarre adventure involving a disgraced pastor, a mysterious self-help guru, and a gaggle of brain scientists. Eventually, Harris realized that the source of his problems was the very thing he always thought was his greatest asset: the incessant, insatiable voice in his head, which had propelled him through the ranks of a hypercompetitive business, but had also led him to make the profoundly stupid decisions that provoked his on-air freak-out.
Finally, Harris stumbled upon an effective way to rein in that voice, something he always assumed to be either impossible or useless: meditation, a tool that research suggests can do everything from lower your blood pressure to essentially rewire your brain. 10% Happier takes listeners on a ride from the outer reaches of neuroscience to the inner sanctum of network news to the bizarre fringes of America's spiritual scene, and leaves them with a takeaway that could actually change their lives.