The Treasure Box (Hardcover)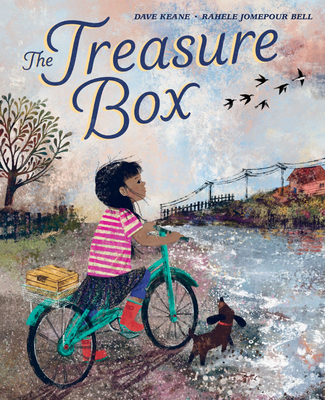 Description
---
A poignant, gorgeously-illustrated story about a girl's bond with her grandfather and how it evolves after his death.

Searching for treasures with her grandpa is this young girl's favorite thing to do. Every week they examine the items in her secret box and go on walks to find more—a broken robin's egg, rusty spring, even a snakeskin that makes Grandpa squirm and make funny faces.

But then Grandpa is too sick to come. She leaves him a few treasures in the hospital, but when he dies, she can't bring herself to even open the treasure box.

When Grammy brings her some treasures Grandpa wanted her to have, they open the box together and continue the tradition, showing that memories of time together are the greatest treasures of all.

This poignant, gorgeously-illustrated story celebrates the special bonds kids have with grandparents, even after they are gone.

About the Author
---
As a young boy, Dave Keane kept a wooden box under his bed filled with objects he collected from around his neighborhood. He used that memory for this story about celebrating the time his kids shared with their grandparents. He has written many books for kids, including Who Wants a Tortoise?, Sloppy Joe, and the Joe Sherlock, Kid Detective series. He lives in Northern California and continues to collect interesting things while on walks with his wife Christine.

Rahele Jomepour Bell (rahelestudio.com) is originally from Iran and came to the US to pursue her dream of being a free international artist, and graduated with an MFA in Integrated Visual Arts from Iowa State University. She is happiest creating illustrations that make the imagination travel, take a new look at old ideas, and reaffirm the viewer of their natural place in this world. Rahele lives in Ames, Iowa, with her husband and daughter.
Praise For…
---
"This closely observed portrait of a shared bond between a grandparent and grandchild explores love and loss. . . When he dies, Keane (Who Wants a Tortoise?) expresses the child's grief with restraint—the memorial service is "a sad party you have when someone dies"—and the loss slowly leads to someone new to share treasure with. Keane writes with sensitivity and deep feeling, and Bell's images give the story freshness and immediacy." —Publishers Weekly

"A forthright, genuinely kid-centered look not just at the death of a loved one but also the pain of watching them becoming increasingly ill. The girl's simple, observant narration strips the artifice and platitudes from the experience ('I go with Mommy and Daddy to Grandpa's memorial, which is a sad party you have when someone dies'), a welcome reprieve to grieving youngsters tired of adults' euphemisms about death and sadness." —The Bulletin of the Center for Children's Books

"This touching story depicts a young girl's coming to terms with her sadness at the loss of her beloved grandfather as she discovers her memories of him are treasures of the heart. . . The remarkably intricate, handmade textures fill the characters and scenes with a unique tangibility, reflecting how meaningful and impressionable the times shared with loved ones are." —School Library Journal