Ten Steps to Nanette: A Memoir Situation (Hardcover)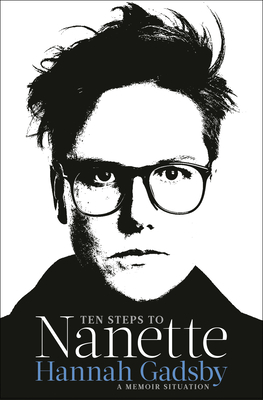 $28.00
Email or call for price.
Staff Reviews
---
I don't know what to say other than the fact that this has been one of the best memoirs I've read in a long while. Gadsby has been my favorite comic since I first saw her Netflix special, Nanette - and her next special, Douglas, solidified that position on my personal roster. This book brought me small parcels of feeling understood that were at times cathartic. While we live very different lives, and have very different experiences, and are very different people, it is the small similarities in thought and experience of the world that I relate to, and greatly appreciate her having shared. I continue to look forward to all new work by her.
— From
Amy's Picks
Description
---
NEW YORK TIMES BESTSELLER • Multi-award-winning Hannah Gadsby broke comedy with their show Nanette. Now they take us through the defining moments in their life and their powerful decision to tell the truth—no matter the cost.

Don't miss Hannah Gadsby's Something Special, now streaming on Netflix!

"Hannah is a Promethean force, a revolutionary talent. This hilarious, touching, and sometimes tragic book is all about where their fires were lit."—Emma Thompson

ONE OF THE BEST BOOKS OF THE YEAR: PopSugar, Vulture

"There is nothing stronger than a broken woman who has rebuilt herself," Hannah Gadsby declared in their show Nanette, a scorching critique of the way society conducts public debates about marginalized communities. When it premiered on Netflix, it left audiences captivated by their blistering honesty and their singular ability to take viewers from rolling laughter to devastated silence. Ten Steps to Nanette continues Gadsby's tradition of confounding expectations and norms, properly introducing us to one of the most explosive, formative voices of our time.

Gadsby grew up as the youngest of five children in an isolated town in Tasmania, where homosexuality was illegal until 1997. They perceived their childhood as safe and "normal," but as they gained an awareness of their burgeoning queerness, the outside world began to undermine the "vulnerably thin veneer" of their existence. After moving to mainland Australia and receiving a degree in art history, Gadsby found themselves adrift, working itinerant jobs and enduring years of isolation punctuated by homophobic and sexual violence. At age twenty-seven, without a home or the ability to imagine their own future, they were urged by a friend to enter a stand-up competition. They won, and so began their career in comedy.             

Gadsby became well known for their self-deprecating, autobiographical humor that made them the butt of their own jokes. But in 2015, as Australia debated the legality of same-sex marriage, Gadsby started to question this mode of storytelling, beginning work on a show that would become "the most-talked-about, written-about, shared-about comedy act in years" (The New York Times).           

Harrowing and hilarious, Ten Steps to Nanette traces Gadsby's growth as a queer person, to their ever-evolving relationship with comedy, and their struggle with late-in-life diagnoses of autism and ADHD, finally arriving at the backbone of Nanette: the renouncement of self-deprecation, the rejection of misogyny, and the moral significance of truth-telling.
About the Author
---
Hannah Gadsby stopped stand-up comedy in its tracks with their multi-award-winning show Nanette, which played to sold-out houses in Australia, the UK, and New York. Its launch on Netflix, and subsequent Emmy and Peabody wins, took Nanette (and Hannah) to the world. Hannah's difficult second album (which was also their eleventh solo show) was named Douglas, after their dog. Hannah walked Douglas around the world, selling out and scoring another Emmy nomination. Before all of this, Hannah appeared as a character called Hannah in Please Like Me (Hulu) and toured their native Australia and the UK as a stand-up comedian. They made art documentaries and did plenty of other things over the course of more than a decade in comedy, but that will do for now.
Praise For…
---
"For fans of Gadsby, [their] delivery on the page will delight just as it does on screen. [They] remain honest, with stories that draw laughter over situations that are always based in truth—harsh or otherwise."—Time

"Enthralling."—The Washington Post

"A joyful read . . . Gadsby's voice is intimate and close, and spending time with it is a lot like listening to a good friend relay a fascinating life story over a couple of pints at the bar."—Oprah Daily

"Similar to [their] groundbreaking comedy specials Douglas and Nanette, Gadsby's memoir reads like a conversation with a longtime friend. . . . A can't-miss memoir that will make readers laugh, cry, and everything in between."—Library Journal (starred review)

"In this stunning debut, Emmy Award–winning comedian Gadsby guides readers on a tour of [their] life that's every bit as intimate, gutting, and untidy as the performance referenced in the title. . . .This stirring tale of resilience laughs in the face of the 'inspiration porn' industry."—Publishers Weekly (starred review)

"Consistently self-effacing and contemplative, Gadsby acknowledges that [their] unique brand of deadpan observational comedy isn't for everyone, especially since it often skewers 'the two most overly sensitive demographics the world has ever known: straight white cis men and self-righteous comedians'. . . A witty and provocatively written life story."—Kirkus Reviews