The Good Hand: A Memoir of Work, Brotherhood, and Transformation in an American Boomtown (Hardcover)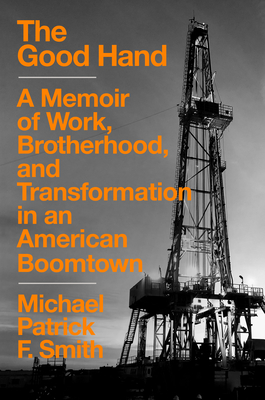 $29.00
Email or call for price.
Description
---
"A book that should be read . . . Smith brings an alchemic talent to describing physical labor." —The New York Times Book Review

"Beautiful, funny, and harrowing." – Sarah Smarsh, The Atlantic

"Remarkable . . . this is the book that Hillbilly Elegy should have been." —Kirkus Reviews

A vivid window into the world of working class men set during the Bakken fracking boom in North Dakota

Like thousands of restless men left unmoored in the wake of the 2008 economic crash, Michael Patrick Smith arrived in the fracking boomtown of Williston, North Dakota five years later homeless, unemployed, and desperate for a job. Renting a mattress on a dirty flophouse floor, he slept boot to beard with migrant men who came from all across America and as far away as Jamaica, Africa and the Philippines. They ate together, drank together, argued like crows and searched for jobs they couldn't get back home. Smith's goal was to find the hardest work he could do--to find out if he could do it. He hired on in the oil patch where he toiled fourteen hour shifts from summer's 100 degree dog days to deep into winter's bracing whiteouts, all the while wrestling with the demons of a turbulent past, his broken relationships with women, and the haunted memories of a family riven by violence.

The Good Hand is a saga of fear, danger, exhaustion, suffering, loneliness, and grit that explores the struggles of America's marginalized boomtown workers—the rough-hewn, castoff, seemingly disposable men who do an indispensable job that few would exalt: oil field hands who, in the age of climate change, put the gas in our tanks and the food in our homes. Smith, who had pursued theater and played guitar in New York, observes this world with a critical eye; yet he comes to love his coworkers, forming close bonds with Huck, a goofy giant of a young man whose lead foot and quick fists get him into trouble with the law, and The Wildebeest, a foul-mouthed, dip-spitting truck driver who torments him but also trains him up, and helps Smith "make a hand."

The Good Hand is ultimately a book about transformation--a classic American story of one man's attempt to burn himself clean through hard work, to reconcile himself to himself, to find community, and to become whole.
About the Author
---
Michael Patrick F. Smith is a folksinger and playwright currently based in central Kentucky. His plays, including Woody Guthrie Dreams and Ain't No Sin, have been staged in Baltimore and New York. As a musician, he has shared the stage with folk luminaries such as Ramblin' Jack Elliott, as well as several prominent indie rock bands. Smith has also worked as a stage actor, a bartender, junk hauler, furniture mover, book store clerk, contractor, receptionist, event producer, driver, office temp, stage hand, waiter, security guard, set fabricator, legal assistant, grocer, oil field hand, and now writer. The Good Hand is his first book. Visit his website at thegoodhand.org.
Praise For…
---
Praise for The Good Hand:

"Smith brings an alchemic talent to describing physical labor . . . With a playwright's talent for dialogue, storytelling in miniature and staying out of the way, he writes dozens of scenes of men moving, joking and endlessly talking . . .  his writing keeps people alive in their histories, talents, humor and mistakes . . . [bringing] perspective, on how people, including Smith, can sometimes rise above their worst selves through unglamorous, demanding, difficult work. . . a book that should be read." —The New York Times Book Review

"[A] sprawling, heart-smeared-on-the-page howl of rage and pain. The Good Hand is a rambling honky-tonk of a book, with the soul of a songwriter and the ache of a poor white boy who grew up rough. It is big and it is pretty and it is amazing." —Los Angeles Times

"The Good Hand 's scenes in 'the patch' are beautiful, funny, and harrowing, constructed with metal hooks, workplace lingo, poetic profanity, and the author's palpable fear . . . As someone whose immediate family bears the scars of physical labor in another Great Plains state, and who rarely sees her native class convincingly portrayed, I relished these anecdotes and the validation they provide." —Sarah Smarsh, The Atlantic

"Offers sharp observations on North Dakota's extraction industry . . . The Good Hand skillfully braids together scenes of life in Williston—in the oil fields, in the bars, at the three-bedroom townhouse Smith shares with 11 others—with historical dives into the region's Indigenous and settler-colonial history, and with troubled memories of the terror his abusive father inflicted on his family." —High Country News

"Smith writes empathetically but not sentimentally about working men and women scuffling paycheck to paycheck, and he does so in a Skid Row patois that would make Charles Bukowski proud. He may, at last, have found his calling." —The Pittsburgh Post-Gazette

"Lyrical and engrossing . . . an extraordinary tale . . . Smith writes movingly of his chaotic childhood . . . There have been predictable comparisons to […] J.D. Vance's Hillbilly Elegy and Tara Westover's Educated—but Smith's story, blessedly, comes with more (crude) humor . . . undeniably powerful." —The Sunday Times (UK)

"The Good Hand addresses wider debates over oil but never lets them derail the story. Smith has a playwright's ear for dialogue, a reporter's knack for the telling detail, a novelist's way with a good metaphor and the storytelling skill of a folk singer — and he puts them all to good use." —Upstream

"A white-hot, fiercely argued case for working rural people in the face of their economically brutal lives . . . brims with intelligence and foreboding . . . a penetrating, blazing look at people whom many of us have forgotten – but who are the nation's truly essential workers." —Kirkus Reviews (starred)

"Smith impresses in this fascinating debut memoir . . . [his] prose shines when sharing how his experience on the oil rig shaped his idea of what it means to live a meaningful life. This page-turner delivers." —Publishers Weekly

"Thrillingly and wrenchingly funny, Candide in the oil fields of North Dakota. What Michael Patrick Smith found there, along with hustlers, brawlers, and fast-buck and fast-spend artists, was a gusher of a story about the national character. Like Educated and Hillbilly Elegy, The Good Hand is one of those brilliant close-ups that suddenly flips to become a wide shot of the American moment. Smith has put together a thrilling combination of participation, reportage, self-discovery, and witness." —David Lipsky, New York Times bestselling author of Although of Course You End Up Becoming Yourself
 
"This land, despite what Woody Guthrie sang, is not our land, and the violence involved with extracting its resources infects all our lives, starting with the lives of the men who show up to take it. In The Good Hand, Michael Patrick Smith guides us through a long muddy year in North Dakota's oil boom, telling the story as if it were a Sam Shepard play that can't be stopped even though people are about to get badly hurt. It's a surprisingly tender account of a man who is searching for salvation – from the sins of his family, from the drunken and drugged-up sins of a world broken by corporations – while trying desperately to find himself through work. He discovers that, like digging for oil, formed for years under great pressure, digging out the past is grueling, but worth the wait." —Robert Sullivan, author of The Thoreau You Don't Know
 
"A sincere and colorful account of down-and-out men trying to make it and maybe grow up in the eternal dreary tailgate party and crushing dangerous toil of the fracking boom. As one of Smith's mentors tells him, 'now you know why gas is so expensive.'" —William T. Vollmann, author of The Lucky Star

"A fine successor to Orwell's Down and Out in Paris and London, translated to the epic scope and sweep of the prairie West. While telling his bruisingly candid tales of toiling in a North Dakota oil field ('if this breaks me, then I'll know what breaks me'), Smith paints a larger portrait of the American worker's heroically tragic struggle for a thin slice of the pie." —John Strausbaugh, author of Victory City and City of Sedition

"A thrill-read—There Will Be Blood made modern, and with added wit—The Good Hand is that rare literary treasure: all things, all at once. By mixing memoir with reportage and analysis, and  telling his tale with rigor and joy,  Michael Patrick F. Smith gives us a hoot that also feels necessary. The book comprises its own impossible boom story: Smith has drilled barrel after barrel of crude fun from the dust and stone of American capitalism." —Darin Strauss, NBCC-Award winning author of Half a Life and The Queen of Tuesday

"Novelistic, gritty reportage, very large in heart, with memorable characters on almost every page, The Good Hand will remind readers of the best of Orwell and Ehrenreich. A beautifully evoked, compelling memoir of hard work in a hard place." —Philip Dray, author of There is Power in a Union: The Epic Story of Labor in America

"Like the men who populate it, The Good Hand is big and rowdy, busting its ass to uncover something ancient, buried, crude—and essential. By placing his body as a hard-worn cog in its machine, Smith gets to the heart of our addiction to oil and uncovers the demands it makes on the rough, desperate men who flock to boomtowns, looking to find and lose themselves all at once." —Baynard Woods, co-author of I Got a Monster: The Rise and Fall of America's Most Corrupt Police Squad

"A sprawling epic about life in the boom times—North Dakota, oil and cash coming down like rain. Think Samuel Clemens in San Francisco during the Rush or Jack London in the Klondike. The Good Hand is a wonderful feat of storytelling that illuminates a city, a moment, and the American character at large." —Rich Cohen, author of The Last Pirate Ship of New York

"[An] affecting snapshot of blue-collar America in a singular place and time." —Booklist