Diggersaurs Explore (Board book)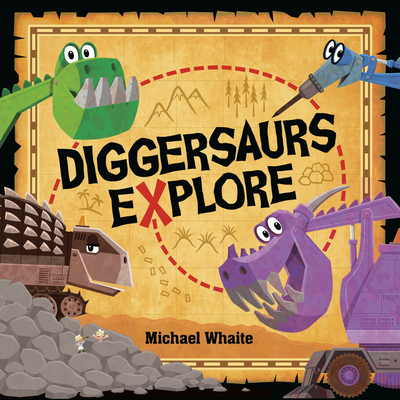 Description
---
Construction trucks combined with dinosaurs rock the landscape in this companion to DIGGERSAURS! There are surprises in store in this rhyming, treasure-hunt adventure, where the emphasis is on demolition and exploration!

When building work is done, it's time for fun! A dozen diggersaurs crunch and crush, excavate and explore...perhaps for gold...or something more? Our familiar diggersaur friends--WRECKERSAURUS! DUMPERSAURUS! DOZERSAURUS, and more--are back with their rip-roaring sound effects. While exploring and demolishing, these helpful Diggersaurs discover a fantastical treasure--a whole new kind of diggersaur! Keen-eyed readers will love searching for jewels and treasure on every spread for added fun. Truck and dinosaur lovers will devour this all new adventure.
About the Author
---
MICHAEL WHAITE is a writer, illustrator, and animator who has worked in children's television for over thirty years in England, where he lives with his wonderful wife and delightful daughter. Find him on Twitter: @MichaelWhaite.
Praise For…
---
"Explore with a diggersaur? Expect roars for more! Both dino and machine lovers will still find much to enjoy here." --Kirkus Reviews