✌ Auto Sportive ✎ Libro da Colorare Di Auto ✎ Libro da Colorare Bambini 9 anni ✍ Libro da Colorare Bambini 9 anni: ✎ Spo (Paperback)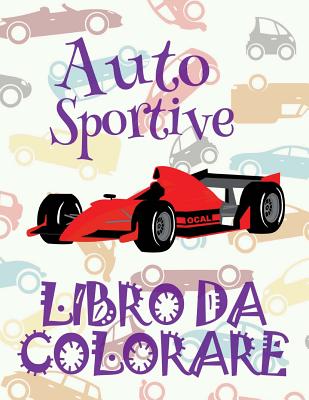 $9.77
Email or call for price.
Description
---
✎ TONS OF TRANSPORTATION 🚙
There's nothing better for your little one than a fun coloring activity book that will also teach them something valuable 🚙
Cars coloring book is for preschoolers and toddlers (boys and girls aged from 2 to 8 years old). Boys and girls will love to color and get creative with this coloring book. The Coloring book is packed with Cars. Kids can frame or pin up the best coloring pages in their rooms since each illustration is on a separate page. Age specifications: This coloring book is for toddlers, preschoolers, kids ages 2-4 and ages 4-8.Cars Coloring Book for Kids is a jumbo coloring book for toddlers, preschools and young children that love things that go 🚙
This things that go coloring book will keep your little one entertained and engaged while teaching them all about different modes of transportation 🚙
This book features the following:
Single sided printing to avoid bleed through and allow you to use gel pens and felt tip markers
Large 8.5 x 11 inch pages
Did you know that coloring is not only fun but it is also greatly beneficial for children? Coloring is proven to deliver the following benefits:
Improves Motor Skills
Stimulates Creativity
Contributes to Better Handwriting
Improved Focus and Hand to Eye Coordination
Encourages Self-Expression
Therapeutic and Stress Relieving
And Much More...
Your child cannot afford to miss out on this essential coloring activity book.
Scroll up and order now 🚙
Your little one will be entertained for hours and learn all about things that go 🚙
🚒 TAGS: 🚚
Auto Sportive, Libro da Colorare Di Auto, Libro da Colorare Bambini 9 anni, Libro da Colorare Bambini 9 anni, Libro da Colorare Bambini 9 anni, Libro da Colorare Bambini 9 anni, Libro da Colorare, Coloring Book Cars, 1 Coloring Books for Kids, Coloring Book Enfants, Coloring Book Of Magic, Coloring Books, Homeschool Materials, Kids Ages 4-8