Third Eye Awakening: How to Open Your Third Eye Chakra, Increase Awareness, and Activate and Decalcify Your Pineal Gland through Guided Med (Paperback)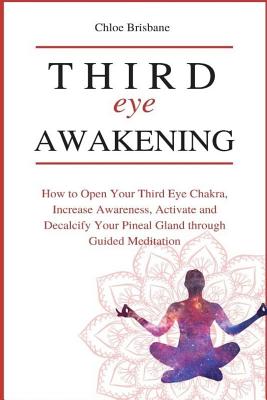 $14.99

Not Available In-Store - Usually Ships from Warehouse in 1-5 Days
Description
---
Third Eye Awakening is the ultimate guide that will take you on an exploration of light, the eternal light that illuminates everything and makes us happy, grateful, and more humane.
The third eye chakra, the source of this light, rests in your mind. It has immense power. It is the provider of the intuitive abilities. It strengthens your sixth sense and gives you psychic powers. It is present in everyone, and this book will teach you the secrets to opening and activating your third eye chakra...
Meditation is the solution for most of the problems we face today. It connects us to our inner and higher selves. This book will walk you through step-by-step, and will teach you everything that you need to know about opening your third eye and how you can use it effectively through meditation...
In this book you'll learn:
What is the Third Eye?
How to open your Third Eye
How to awaken your higher self through guided meditation
The power and benefits of opening the Third Eye
Gain wisdom and clarity from your divine self
How to feel more relaxed and centered
Connect you to your intuition
The procedure to balance your chakras
Help in clearing your body of negative energy
Guidance to heal affected chakras and realign your entire chakra system
Guided meditation sessions
And so much more
This book will change your life and free yourself from negative energies. NOW is the time to make a change and live a happier life
--- Get your copy of
Third Eye Awakening
today ---
----
Tags: chakras, chakra for beginners, chakra healing, chakra awakening, energy healing, energy techniques, energy psychology, guided imagery, reiki healing, mind control, mind's eye, astral travel, prescience, expanded creativity, pineal gland, tantric, divine knowledge, inner eye, insight, increase energy, healing your grieving heart, healing your emotional self, heal your body, heal your life, heal your mind, clairvoyance, vibration, find inner peace, clear your mind, cleanse your body, middle eye of shiva, hundalini, prana, hindu, kundalini, baha'i, confucianism, gaia, i ching, jainism, mysticism, mindfulness meditation, stress management, anxiety and depression, zen, hypnosis, hypnotherapy, how to find peace, how to be happy, how to find happiness, how to find yourself, tranquility, calmness, calming, spiritualism, spirituality, spiritual healing, spiritual growth, spiritual cleansing, spiritual awakening