Stop Hip Bursitis Pain: Greater Trochanteric, Iliopsoas and Ischial Bursitis (Paperback)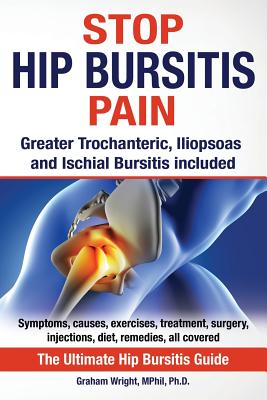 $15.99

Not Available In-Store - Usually Ships from Warehouse in 1-5 Days
Description
---
What Amazon readers are saying:

"This book is some of the best money I've ever spent and I am so grateful for it. (This is the first item I've ever felt so compelled as to review on Amazon ) If you are suffering hip pain or even lower back pain buy this book immediately
The very next day after I first did the prescribed exercises and particularly stretches my hip pain i had suffered for a year was noticeably decreased for the first time.
After two weeks of doing the exercises roughly every other day my hips are so relieved, I no longer dread walking up the three flights of stairs to my flat. My chronic lower back pain I've suffered for years is also improving (I had under-estimated how much one body part impacts another and I am so happy my back pain is also improving thanks to this book)" - Alexander M. - UK

"Does exactly what it says on the cover.. this book completely stopped my chronic hip bursitis pain that kept recurring again and again over the years. I just practised the recommended exercises and adopted the diet plan and some of the home remedies for a month and my pain magically disappeared. I finally got to know what my hip bursitis condition is and how to treat it. Credits to the writer who presents everything in a clear and precise way which is very easy to follow. Cannot recommend it enough, really a five star book" - Maxwell - UK

"Lots of valuable information. Loved that the author covered everything from basic medical information to supplements, exercises, even an anti-inflammatory food list." - Diana C. Paul - US
Stop Hip Bursitis Pain provides you with all the tools and methods you will need to completely alleviate your Hip Bursitis pain and take back control of your life.
The author, Graham Wright, MPhil, Ph.D., gives you all the required background on Hip Bursitis, while placing the main emphasis of the book on the treatment of the condition. Though the book is based on all the latest medical research, the author assumes no medical background for the reader and presents all topics in easy-to-grasp everyday language.
This publication is packed with sound advice and tips on how to end your hip bursitis pain. Written by an expert researcher with extensive experience, this book will give you an in-depth look at the following subjects:
What is Hip Bursitis
Hip Bursitis types
Greater Trochanteric Bursitis
Iliopsoas Bursitis
Ischial Bursitis
Causes
Symptoms and Diagnosis
Treatment
Clinical treatment
Pharmaceutical medication
Alternative treatments
Injections
Exercises alleviating symptoms
Exercises aggravating symptoms
Physical therapy
Foods and Diet
Natural Remedies
Hip Bursitis and Spinal Cord Injury
Assistive Aids
And much more....
Stop Hip Bursitis Pain is the top-selling reference book on Hip Bursitis and is the only book in the market written specifically for people affected by this condition.

You don't have to suffer the unbearable chronic hip bursitis pain or toss and turn every night in your bed any more. Just apply the treatment methods described in the book and say goodbye to your hip bursitis pain for ever