Hhhh (Ldp Litterature) (Paperback)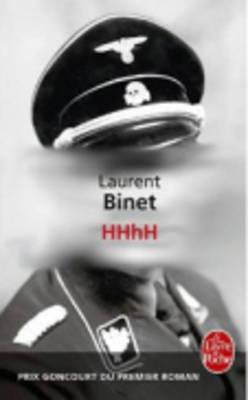 $24.95
Special Order - Subject to Availability
Staff Reviews
---
In what is technically a novel, Laurent Binet tells the story of the two Czechoslovakian parachutists (one Czech, one Slovak) who pulled off the most daring assassination of World War II. These two brave men were able to take down one of the most powerful men in Hitler's regime, Reinhard Heydrich. The title, HHhH, comes from a German phrase of the time which translates to "Himmler's brain is called Heydrich." At the same time, Binet explores the idea of writing historical fiction, and agonizes about how to honor these two brave souls by telling their story accurately. Amazing!
—
Sarah B.
Description
---
Prague, 1942, op ration Anthropo de deux parachutistes tch ques sont charg's par Londres d'assassiner Reinhard Heydrich, le chef de la Gestapo et des services secrets nazis, le planificateur de la Solution finale, le bourreau de Prague . Heydrich, le bras droit d'Himmler. Chez les SS, on dit de lui: HHhH . Himmlers Hirn heiβt Heydrich - le cerveau d'Himmler s'appelle Heydrich. Dans ce livre, les faits relat's comme les personnages sont authentiques. Pourtant, une autre guerre se fait jour, celle que livre la fiction romanesque la v rit historique. L'auteur doit r sister la tentation de romancer. Il faut bien, cependant, mener l'histoire son terme...
Un crivain qui accomplit la prouesse d' la fois narrer l'Histoire authentique, tout en ins rant sa vision du monde ...].On trouve de tout dans HHhH : on y cite Tarantino, Chaplin, Bogart, les films de Fritz Lang et de Douglas Sirk. Philippe Labro, Le Figaro.