Cooking with Fresh Herbs: Green Energy for the Four Seasons (Hardcover)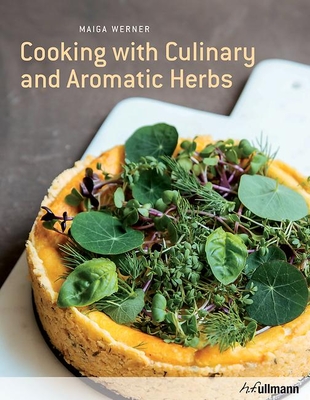 Description
---
The immense diversity of scents and savors offered by herbs is more than a gift from nature - herbs have been part of human culinary habits ever since, as they can be easily found in the nature around us. Their complex taste and healing powers unite harmoniously and provide a sensation of freshness to the palate, be they used in soups, salads or other dishes. Structured by season, this book covers more than 90 different herbs which grow around the globe. It contains many mouthwatering recipes from salty to sweet, all of which feature herbs as the central element.

Beginning with Spring and the first shoots of bear's garlic, stinging nettles and dandeloin, this fascinating and informative book moves through the seasons ending with the corn salad and chickweed of Winter. Each season presents it's own individual herbs. Tips, tricks and instructions are provided to ensure you know your fennel from your hyssop. You will quickly learn how to feed, water and harvest your herbs. Along with the desriptions of each plant you will find numerous recipes, which are quick and easy to make. You will be kept busy and content in your garden, and your kitchen, the whole year round.
This book is an essential reference for anyone who loves to cultivate their own herbs with which to cook.
About the Author
---
Maiga Werner always felt a very close connection to her parents' garden and to nature in general. After a career path which led her from philosophy to media design, to work as a chef and a gardener, she finally found her way back to the garden of her childhood. This strong connection is the source of her inspiration and the answer to the question asked of her as a child, about what she wanted to do when she grew up. Her aim, once quoated as a casual remark in the school newspaper, of becoming a farmer and writer obviously paved the way toward this objective and eventually resulted in the creation of the present-day wild herb garden. The fresh herbs from theis garden are now distributed to gourmet chefs, private epicures, and used to produce organic pot herbs. These initial beginnings as a fresh herb supplier have blossomed into a flourishing herb paradise, which this book invites readers to explore for themselves as a culinary experience and which can also be visited in person.