On Second Thought: From a Sect Called Worldwide to a Wider World Community (Paperback)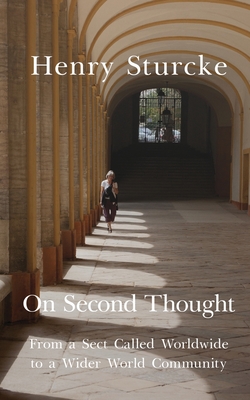 $14.95

Not Available In-Store - Usually Ships from Warehouse in 1-5 Days
Description
---
What if this isn't the end of the world? Henry Sturcke suppressed this question as long as he could. For good reason: he was a pastor in a strict church that expected the imminent return of Jesus Christ to establish the wonderful world tomorrow on earth.
Wrestling with questions while failing to live up to his expectations of a good pastor, Henry battled burn-out. Meanwhile, the denomination he served, the Worldwide Church of God, was wracked by upheaval. Soon after the expulsion of its public face, pioneering televangelist Garner Ted Armstrong, Worldwide became embroiled in a landmark church-state legal confrontation. Then Herbert Armstrong, Worldwide's autocratic founder, died. The fragmentation of Worldwide that followed took a surprising turn: Armstrong's successors repudiated much that he had taught, while myriad breakaways vied for the claim to convey his legacy faithfully.
By this time, Henry had begun to face his doubts. As a self-prescribed therapy for a renewed bout of depression, he enrolled in theology courses at a nearby university, leading after years of uncertainty to a surprising continuation of his ministry.
On Second Thought is the third book in a trilogy. The first book, Fooled into Thinking: Dylan, the Sixties, and the End of the World, tells of Henry's first exposure to Worldwide's apocalyptic message. The second book, Those Elusive True Values: Journey to the Heart of the Armstrong World, covers his study at Ambassador College, Worldwide's educational arm.