The Apprenticeship of Big Toe P (Hardcover)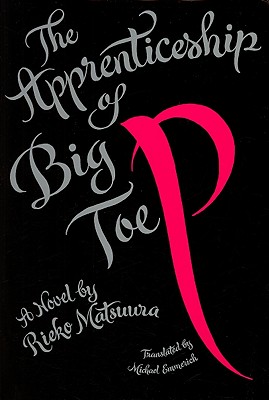 $24.95

Special Order - Subject to Availability
Staff Reviews
---
As a connoisseur of weird novels, I have to say that this one is definitely one of the weirdest. Kazumi Mano—a young woman formerly content to passively let life happen to her—wakes up one day with the wrong genitalia... on her toe! Soon, Kazumi is forced to reevaluate her life, her sexuality, and everything she ever took for granted. Along the way, she finds love and friendship with a cast of "sexual freaks" just like herself. I thought this novel was hilarious and thought-provoking. A classic coming-of-age story masquerading as a bizarre fairy-tale, Matsuura's novel is really hard to put down. Even as I identified with Kazumi, I was totally unprepared for where this novel took me. This is a great novel for anyone searching for a conversation piece and just downright good story-telling!
—
Jennie
Description
---
The Apprenticeship of Big Toe P is a highly acclaimed work of fiction that won Japans most prestigious literary prize for women writers. A provocative, picaresque spin on a coming-of-age story, the novel tells of a young Japanese woman who wakes up one afternoon to discover that her big toe has turned into a penis. In learning to adjust to her new sexual organ, the heroine is forced to reconsider her body, her sexuality and her life. After fleeing from her homophobic fianc , she falls in love with a bisexual blind pianist who accepts her for whom she is, and together they join a troupe of performers--all sexually deformed and emotionally twisted men and women. Thus begins her apprenticeship. There are few novels that are equally praised by literary critics and scholars alike, and fewer yet that actually go on to become bestsellers, but The Apprenticeship of Big Toe P is both. It is a highly imaginative, intelligent work--first-rate as literature, as entertainment, and as a love story.
About the Author
---
RIEKO MATSUURA was born in Japan in 1958, and is the author of a number of extraordinary fictional works, among them Natural Woman, about a lesbian couple, and A Dogs Body, a love story about a woman who becomes a dog. Originally published in 1993 in Japan, The Apprenticeship of Big Toe P is her first work to be translated into English. Translator MICHAEL EMMERICH graduated from Princeton University. After completing research in Japan, he earned a Ph.D. in Japanese literature from Columbia University. He is the widely-praised translator of Nobel laureate Yasunari Kawabatas First Snow on Fuji and the editor of Read Real Japanese Fiction, published by Kodansha International in 2008.