The Spectacular Now (Paperback)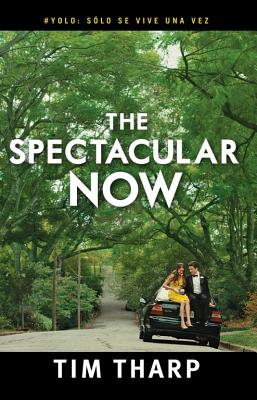 $13.99
Email or call for price.
Staff Reviews
---
When it comes to the young adult world, there simply aren't enough books that have a strong male narrator. Sutter Keely is my saving grace. He's unapologetic about the way he lives, and his character is so strong that I quickly became engaged with his story. Taking place during his senior year, The Spectacular Now follows Sutter through his triumphs and pitfalls, and his developing relationship with the shy and quiet Aimee. He remains true to himself to the end, which is what made me love this coming of age story so much.
—
STAFF PICKS BY HEATHER H.
Description
---
Sutter Keely es un chico en su último año de preparatoria a quien todo el mundo conoce y aprecia. Es carismático, agradable, popular, sabe divertirse y es el alma de las fiestas. Aparentemente tiene una vida perfecta. Él vive el momento y sus excesos, bebe demasiado whisky a todas horas. Un día termina varado en el jardín de la casa de su compañera de escuela: Aimee, una chica tímida e inteligente. Al ver la vida aburrida de Aimee se propone cambiarla y ayudarla a que los demás dejen de aprovecharse de su buena voluntad, y sin darse cuenta se enamora de ella. Pero Aimee no es como las otras chicas, pues lo escucha y confía plenamente en él. El problema es que Sutter no cree que alguien pueda amarlo. Las cosas no salen como él planea y su mundo parece colapsarse sepultándolo en sus emociones, así que debe decidir qué es lo mejor para Aimee.


English description

SUTTER KEELY. HE'S the guy you want at your party. He'll get everyone dancing. He'll get everyone in your parents' pool. Okay, so he's not exactly a shining academic star. He has no plans for college and will probably end up folding men's shirts for a living. But there are plenty of ladies in town, and with the help of Dean Martin and Seagram's V.O., life's pretty fabuloso, actually.Until the morning he wakes up on a random front lawn, and he meets Aimee. Aimee's clueless. Aimee is a social disaster. Aimee needs help, and it's up to the Sutterman to show Aimee a splendiferous time and then let her go forth and prosper. But Aimee's not like other girls, and before long he's in way over his head. For the first time in his life, he has the power to make a difference in someone else's life—or ruin it forever.
About the Author
---
Tim Tharp es profesor en el Departamento de Humanidades de la Universidad de Rose State. Su primera novela, Falling Dark, ganó el Milkweed National Fiction Prize. Knights of the Hill Country, su primera novela para jóvenes, apareció en la lista de American Library Association's Best Books en 2007. Mi espectaular ahora ha sido finalista en los National Book Award en 2008.