365 días de Wonder. El libro de preceptos del señor Brown / 365 Days of Wonder: Mr. Browne's Book of Precepts (Paperback)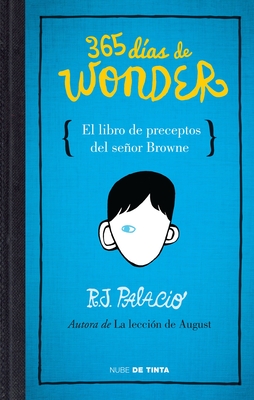 $13.95

Special Order - Subject to Availability
Description
---
El señor Browne, el memorable profesor del bestseller Wonder. La lección de August, comparte su recopilación de preceptos.

El universo de Wonder es un fenómeno mundial que ha inspirado a más de un millón de personas.

365 días de Wonder. El libro de los preceptos del señor Brown aporta conversaciones entre los personajes de Wonder. La lección de August, y dará a sus ávidos lectores un vistazo a sus vidas al finalizar la novela.

El señor Browne colecciona preceptos: citas de grandes sabios, normas sobre las cosas que de verdad importan, palabras para la vida... Su colección celebra la amabilidad, la bondad en las personas, el corazón y la fuerza de voluntad humana.

En este libro la autora, J.R. Palacios, ha incluido junto a las palabras de figuras como Ana Frank o Martin Luther King Jr., y las de algunos personajes de Wonder. La lección de August, las de más de 100 lectores que le enviaron postales con propios preceptos.

Maravilloso para niños, padres, profesores o cualquier adulto que busque inspiración en los valores que han hecho de este libro un éxito entre más de un millón de lectores alrededor del mundo.

English Description

My name is August. I won't describe to you what I look like. Whatever you're thinking, it's probably worse.' Ten-year-old August Pullman wants to be ordinary. He does ordinary things. He eats ice-cream. He plays on his Xbox. He feels ordinary - inside. But Auggie is far from ordinary. Born with a terrible facial abnormality, he has been home-schooled by his parents his entire life, in an attempt to protect him from the cruelty of the outside world. Now, Auggie's parents are sending him to a real school. Can he convince his new classmates that he's just like them, underneath it all? Narrated by Auggie and the people around him whose lives he touches, "Wonder" is a frank, funny, astonishingly moving debut to be read in one sitting, pass on to others, and remember long after the final page.
About the Author
---
Mientras R. J. Palacio se dedicaba a diseñar preciosas cubiertas para cientos de autores, soñaba con escribir una novela algún día. Sin embargo, le parecía que nunca llegaba el momento hasta que se dio cuenta de que lo único que tenía que hacer era empezar. Wonder. La lección de August, su primera novela, se convirtió en un fenómeno mundial que ha inspirado a más de un millón de personas. A este título le siguieroin Wonder. La historia de Julián, Wonder. El juego de Christopher y Wonder. Charlotte tiene la palabra.

Cuando Palacio decidió escribir El libro de preceptos del señor Browne, pidió ayuda a sus lectores: en dos semanas, había recibido más de mil postales con preceptos procedentes de todo el mundo.