Irene (Spanish Edition) (Paperback)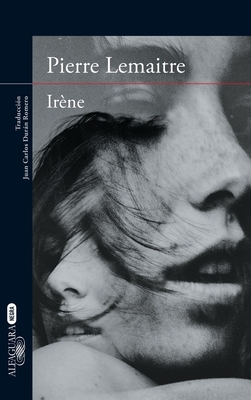 $19.95
Not Available In-Store - Usually Ships from Warehouse in 1-5 Days
Staff Reviews
---
Irene is the first book in Pierre Lemaitre's stunning Commandant Camille Verhoeven Trilogy, but it's actually the second book released in the U.S. The second book in the series, Alex, was released first. I'm not sure why, but I love these books nonetheless! They are twisty-turny mysteries that wheedle their way into your mind and haunt your dreams for weeks afterwards. Camille Verhoeven is a brilliant detective and the perfect nuanced character to support a trilogy. I can't say enough good things about Lemaitre's writing--give them a try and see for yourself!
—
LAUREN'S STAFF PICKS
December 2014 Indie Next List
---
"This extremely suspenseful, fast-paced crime novel is not for the fainthearted. Its graphic violence may turn some readers away, but those who stick through the opening scenes will be richly rewarded by following Commander Verhoeven's pursuit of a monstrous serial killer who models his gruesome crimes on scenes from classic crime novels. The intense action is enriched by scenes from Verhoeven's domestic life, as well as the interactions among the distinct personalities of his Paris detective squad."
— Joe Strebel, Anderson's Bookshop, Naperville, IL
Description
---
El comandante Camille Verhoeven vive la vida perfecta: está casado con la maravillosa Irene, con la que espera su primer hijo. Pero su felicidad se resquebraja tras un asesinato inusualmente salvaje. Desde que la noticia se hace pública, la prensa parece acecharlo y cada uno de sus movimientos se convierte en noticia de portada. Cuando Verhoeven descubre que el asesino ha matado antes —y que cada uno de sus crímenes parece rendir homenaje a una novela negra clásica—, los periodistas se apresuran a darle un sobrenombre: «El Novelista». Quienes pueden ayudar a encontrarlo se suman a la lista de sospechosos: un librero y un profesor universitario expertos en novela negra. La investigación se convierte así en un duelo intelectual, y en una aterradora carrera contra el reloj." ENGLISH DESCRIPTION Pierre Lemaitre is known for writing crime fiction with an alchemical mix of white-knuckle intensity, fearlessly unconventional plotting, and psychologically intricate character development. In Irene Lemaitre ingeniously uses five contemporary and classic literary murder scenes--from William McIlvanney's Laidlaw to Bret Easton Ellis's American Psycho--as the framework on which to craft a diabolical prequel to his Crime Writers' Association International Dagger Award-winning novel Alex. Camille Verhoeven, whose diminutive stature belies his fierce intensity, has reached an unusually content (for him) place in life. he is respected by his colleagues and he and his lovely wife, Irene, are expecting their first child.
About the Author
---
Pierre Lemaitre nació en París en 1951. Antes de ganar el Premio Goncourt 2013 con Nos vemos allá arriba, ya era un escritor de renombre en el género de la novela policiaca. Con Irène (Alfaguara 2015, Premio a la Primera Novela Policiaca del Festival de Cognac, Premio San Clemente, considerada Mejor Novela Negra del Año por El Periódico de Catalunya) inició la serie protagonizada por el comandante Camille Verhoeven, que incluye Alex (Alfaguara 2015, Dagger Award 2013, Premio de Lectores de Novela Negra de Livre de Poche 2012 y uno de los libros del año según el Financial Times, en curso de adaptación al cine), Rosy & John (Alfaguara 2016) y Camille (Alfaguara 2016, Dagger Award 2015). Fuera de la serie llegaron, con una extraordinaria recepción por parte del público y de la crítica, Vestido de novia (Alfaguara 2014, Premio del Salon du Polar 2009 y Premio Best Novel Valencia Negra, en curso de adaptación al cine), Recursos inhumanos (Alfaguara 2017, Premio de Novela Negra Europea, en curso de adaptación como serie de televisión) y Tres días y una vida (2016). Además del Goncourt y de tres Dagger Awards, ha obtenido el Premio a la Mejor Novela Francesa 2013 de la revista Lire, el Premio Roman France Télévisions y el Premio de los Libreros de Nancy-Le Point, y su obra, con más de tres millones de lectores, está siendo traducida a treinta idiomas.