El ancho mundo / The Wide World: A Novel (Paperback)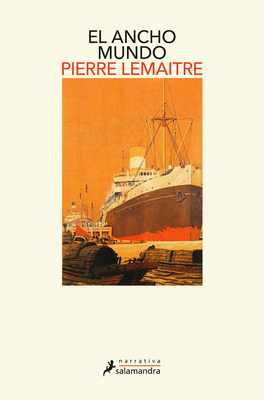 $23.95

Not Available In-Store - Usually Ships from Warehouse in 1-5 Days
Description
---
Entre estatuas de Buda y Confucio y abundantes dosis de opio, grandes titulares políticos y bulos de folletín, Pierre Lemaitre traza, a través de las peripecias y secretos de los Pelletier, una magnífica saga tejida de suspense, ironía, revelaciones y retratos del Beirut, el Saigón y el París de la época, en la que no faltan historias de amor, escándalos, corrupción institucional y más de un asesinato.
 
Centrada en el período inmediatamente posterior a la segunda guerra mundial, que dio paso a los llamados «treinta años gloriosos», El ancho mundo —aclamada por el público y la crítica en Francia—cuenta las aventuras y desventuras de la familia Pelletier, propietaria de una próspera fábrica de jabones en Beirut, ciudad bajo influencia francesa, con la guerra de Indochina y el París de la posguerra y la reconstrucción como telón de fondo.
 
Para gran disgusto del matrimonio Pelletier, sus cuatro hijos buscan ampliar horizontes lejos del hogar familiar. Jean, el abúlico primogénito, incapaz de tomar las riendas del negocio y dominado por su insufrible esposa, acaba vendiendo telas en París; el brillante François huye a la capital francesa con la intención de labrarse un nombre en el periodismo, aunque de momento debe conformarse con una plaza de reportero en la sección de sucesos; el carismático Étienne parte a Saigón en compañía de su gato Joseph para reunirse con Raymond, su amado legionario belga, pero acaba en las garras de una organización internacional de tráfico de capitales; mientras la pequeña Hélène, atrapada en una relación enfermiza con un depravado profesor de matemáticas, medita cómo escapar de sus padres.

ENGLISH DESCRIPTION

The sweeping saga of one prominent French family against the backdrop of post-war Paris, Beirut, and Saigon—an electrifying novel of passion, greed, murder, and revenge.
 
The Pelletiers are a prominent French family living in Beirut. The patriarch, Louis, has built a successful business that he hopes to pass on to his eldest son. With no head for management, Jean nearly runs the company into the ground, then marries a materialistic young woman who insists they emigrate to Paris and join high society. But there's another reason Jean must leave—he has committed a terrible crime...
 
Youngest son Etienne is sent to make his fortune in Saigon. Soon, he begins investigating a covert scheme to channel smuggled goods and cash to the Viet Minh. But the evidence he amasses presents a real threat to his own life.
 
François, the middle brother, arrives in Paris and tries his hand at journalism. His career begins to take off when he starts covering the brutal murder of an actress that seems part of a pattern of killings. But the killer he's chasing is closer to him than he realizes.
 
Epic in scope, and a vivid depiction of French life in the booming postwar years, The Great World is a riveting saga at once gripping and classic.
About the Author
---
Escritor y guionista, PIERRE LEMAITRE (París, 1951) estudió Psicología, creó una empresa de formación pedagógica e impartió clases de literatura. Autor tardío, en 2006 ganó el premio a la primera novela policíaca en el festival de Cognac con Irène, primera entrega de una serie protagonizada por el comandante Camille Verhoeven que incluye Alex (2011, CWA Dagger 2013, entre muchos galardones), Rosy & John (2011) y Camille (2012, CWA Dagger 2015, entre otros honores), una saga de gran reconocimiento internacional a la que Lemaitre ha puesto un brillante colofón con su Diccionario apasionado de la novela negra (Salamandra, 2022), un documentado y emotivo homenaje al género negro.