Calamity (Spanish Edition) (Trilogía de los Reckoners / The Reckoners) (Paperback)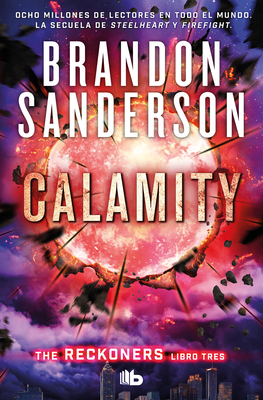 $13.95

Special Order - Subject to Availability
Description
---
Calamity es el tercer volumen de la elogiada «Trilogía de los  Reckoners» de Brandon Sanderson, el autor de fantasía épica que más  lectores está ganado en todo el mundo y que ya se ha convertido en el futuro  heredero del trono de todo un género.
Los Épicos nacieron cuando Calamity iluminó los cielos. Desde esa noche  histórica, el destino de David ha estado entrelazado con el  de esos  malvados. Steelherat asesinó a su padre. Firefight le robó el corazón. Y  ahora Regalia ha convertido a su mayor aliado en un peligroso enemigo.
David conocía el secreto del Profesor. Secreto que guardó incluso cuando  el Profesor se esforzaba por controlar los efectos de sus poderes épicos. Pero no pudo superar enfrentarse a Obliterarion en Babilar. El  Profesor, que fue líder de los Reckoners, se ha entregado totalmente a  su destino de Épico. Se ha hundido en esas tenebrosas sombras de  violencia propias de los Épicos. Y todos saben que de las sombras no se vuelve...
Pero todos se equivocan. Es posible redimir a los Épicos. Megan ya lo  demostró. No todo está perdido. Al menos, no definitivamente.  Y David está lo bastante loco como para enfrentarse al Gran Épico más  poderoso de la historia con tal de recuperar a su amigo. O morir en el intento.

ENGLISH DESCRIPTION

Read the final book in the #1 New York Times bestselling Reckoners series by worldwide bestselling author Brandon Sanderson!

When Calamity lit up the sky, the Epics were born. David's fate has been tied to their villainy ever since that historic night. Steelheart killed his father. Firefight stole his heart. And now Regalia has turned Prof, his closest ally, into a dangerous enemy.

David knew Prof's secret, and kept it even when Prof struggled to control the effects of his Epic powers. But facing Obliteration in Babilar was too much. Once the Reckoners' leader, Prof has now embraced his Epic destiny. He's disappeared into those murky shadows of menace Epics are infamous for the world over, and everyone knows there's no turning back. . . .

But everyone is wrong. Redemption is possible for Epics—Megan proved it. They're not lost. Not completely. And David is just about crazy enough to face down the most powerful High Epic of all to get his friend back. Or die trying.
About the Author
---
Brandon Sanderson (Lincoln, Nebraska, 1975) es el gran renovador de la fantasía del siglo XXI y el autor más prolífico del mundo. Desde que debutara en 2006 con su novela Elantris, ha deslumbrado a diecisiete millones de lectores en treinta lenguas con el Cosmere, el fascinante universo de magia que comparten la mayoría de sus obras. Sanderson es autor de la brillante saga Nacidos de la Bruma (Mistborn), formada por El Imperio final, El pozo de la ascensión, El héroe de las eras, Aleación de ley, Sombras de identidad y Brazales de duelo. Tras El aliento de los dioses, una obra de fantasía épica en un único volumen en la línea de Elantris, inició con El camino de los reyes una magna y descomunal decalogía, El Archivo de las Tormentas, que continuó con Palabras radiantes, Juramentada y la presente El Ritmo de la Guerra. Con un plan de publicación de más de veinte futuras obras (que contempla la interconexión de todas ellas), el Cosmere se convertirá en el universo más extenso e impresionante jamás escrito en fantasía épica.

Sanderson vive en Utah con su esposa e hijos y enseña escritura creativa en la Universidad Brigham Young.
Praise For…
---
Reseñas:

«Brandon Sanderson es una leyenda.» -Alexelcapo, @EvilAFM