Todos los hombres del presidente (Paperback)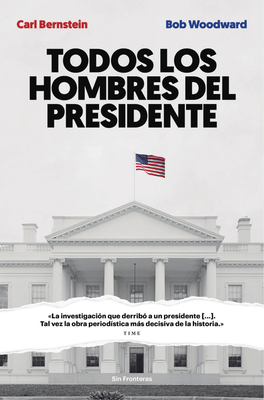 $26.95
Email or call for price.
Description
---
As a young journalist at the Washington Post in 1972, Bob Woodward was sent to cover what would become the Watergate scandal, perhaps the most devastating political scandal of the 20th century. All the President's Men was published just months before Richard Nixon's resignation and uncovered Watergate in all its gritty details.

Así definió la revista Time este libro, publicado por primera vez en 1974, ganador del premio Pulitzer y considerado como uno de los 100 mejores libros de no ficción de todos los tiempos. Todos los hombres del presidente vuelve a cobrar relevancia tras los conflictivos comienzos de la presidencia de Donald Trump, cuando muchos especulan sobre la posibilidad de que sea sometido a un proceso de destitución como el que forzó a Richard Nixon a dimitir tras las investigaciones narradas en este libro. Recién llegado a la redacción de The Washington Post en 1972, Bob Woodward fue enviado a cubrir la siguiente noticia: «Cinco hombres, uno de los cuales afirma ser un antiguo empleado de la CIA, fueron detenidos ayer sábado a las 2:30 de la madrugada cuando intentaban llevar a cabo lo que las autoridades han descrito como un complejo plan para espiar las oficinas del Comité Nacional de Partido Demócrata en Washington.» Woodward asistió a la toma de declaraciones preliminares por parte del juez y descubrió que, el que se declaraba empleado de la CIA, no era otro que James McCord, coordinador de seguridad del Comité para la Reelección del Presidente. Woodward y Bernstein comenzaron una investigación a fondo que concluyó en el escándalo político más devastador del siglo xx. Publicado pocos meses antes de la dimisión de Richard Nixon, Todos los hombres del presidente descubre el escándalo Watergate en todo su alcance, introduciendo por primera vez a Garganta Profunda, la misteriosa fuente de los autores.
About the Author
---
Bob Woodward is a Pulitzer Prize-winning American investigative journalist and an associate editor at The Washington Post. Carl Bernstein is an American investigative journalist and author. His books include The Final Days and A Woman in Charge: The Life of Hillary Rodham Clinton. The two journalists collaborated on reporting the Watergate scandal.