Siete martes / Seven Tuesdays (Paperback)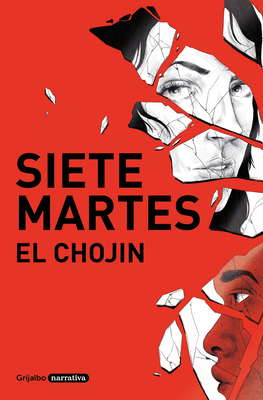 $18.95

Not Available In-Store - Usually Ships from Warehouse in 1-5 Days
Description
---
El libro más ambicioso y comprometido de El Chojin, una de las voces urbanas más populares de nuestro país.

Una novela impactante que conjuga el amor tóxico y los prejuicios raciales en el Madrid actual.

Carol necesita un punto y aparte en su vida, pero se ve incapaz de dar sola ese paso adelante, por eso llama a la puerta de Edú, un psicólogo entregado que, sin embargo, no pasa por su mejor momento. Aun así, cuando Carol acude a su consulta, él no solo la escucha, sino que pronto se da cuenta de que hay algo arrollador en esa chica que lo aboca hasta límites que nunca pensó que traspasaría.

De martes a martes, a la par que Edú se esfuerza por encauzar las emociones desbocadas de Carol, ambos se irán conociendo. Así, él descubrirá que, tras la aparente vida perfecta de una auxiliar de vuelo de familia acomodada, existen muchas inseguridades y un anhelo irrefrenable de nuevas experiencias; pero ¿logrará Carol ver más allá de la piel negra y los rasgos guineanos de Edú?

El torbellino emocional de ella, la enfermedad que oculta él, los prejuicios raciales y una tensión irreprimible que fluctúa en la consulta hacen de este relato una historia vibrante. Narrada a dos voces, Siete martes es una novela de personajes que nos muestra que la realidad depende de los ojos de quien la mira, y, a veces, también está marcada por el color de la piel.

ENGLISH DESCRIPTION

The most ambitious and committed book by El Chojin, one of the most popular urban voices in our country.

A shocking novel that combines toxic love and racial prejudice in today's Madrid.

Carol needs a complete change in her life, but she's unable to take that step forward alone, that's why she knocks on Edú's door, a dedicated psychologist who, however, is not going through the best moment of his life. Even so, when Carol comes to see him, he not only listens to her, but soon realizes that there is something overwhelming in this girl that pushes him to limits he never thought he would cross.

From Tuesday to Tuesday, as Edú strives to channel Carol's unbridled emotions, the two will get to know each other. Thus, he will discover that, behind the seemingly perfect life of a flight attendant from a wealthy family, there are many insecurities and an irrepressible yearning for new experiences; But will Carol see beyond Edú's black skin and Guinean features?

Her emotional turmoil, the illness that he hides, racial prejudices and an irrepressible tension that fluctuates in the consultation make this story vibrant. Narrated in two voices, Seven Tuesdays is a character novel that shows us that reality depends on the eyes of the person looking at it, and, sometimes, it's also marked by skin color.
About the Author
---
El Chojin es rapero, compositor y escritor. De madre extremeña y padre ecuatoguineano, nació en Torrejón de Ardoz en 1977. Su carrera artística lo ha convertido en una de las voces urbanas más aplaudidas de España y Latinoamérica.

La discografía del cantante madrileño está compuesta por decenas de colaboraciones y quince LP que han marcado auténticos hitos en la historia del rap en España. Es un artista versátil que combina su música con el compromiso social.

Colabora desde hace más de diez años con instituciones públicas, entidades sociales y diversas ONG en campañas en contra el racismo y la violencia de género. Además, es constante su participación en conferencias, debates y eventos diversos de índole social y cultural.

Considerado por la crítica como un «trovador contemporáneo» o «poeta urbano», la faceta literaria de El Chojin se extiende más allá de sus composiciones musicales. Ha participado en variedad de recitales y tertulias y escribe poesía, teatro, cuentos y narrativa. En 2010 publicó Rap, 25 años de rimas junto a Francisco Reyes y, un año más tarde, presentó el ensayo Ríe cuando puedas, llora cuando lo necesites, que recogía sus reflexiones. En 2016 sorprendió a los lectores con una distopía: En 2084. Ahora con Grijalbo publica su novela más ambiciosa: Siete martes.
Praise For…
---
Reseña:

«El Chojin no es solo un referente del rap en español. Su empeño en que el arte sea un lugar para sentir, para pensar y para crecer, y no un recipiente vacío, lo convierte en mucho más que un músico. Es un referente social, una voz imprescindible contra al racismo y un agitador de conciencias único. Siempre se puede contar con él para traer algo mejor a este mundo tan hostil a la ternura. Este libro es una muestra más de ello, un trallazo de luz y denuncia, una bofetada, una gran puerta a un nuevo despertar.» —MARWAN, músico, escritor y poeta