NFTs ART AND COLLECTIBLES: Digital assets for the new era. The beginners' sensible guide to non-fungible tokens: Collect, develop, and invest in (Paperback)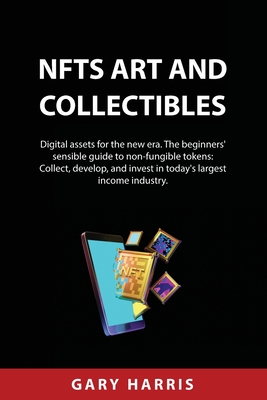 $24.99

Not Available In-Store - Usually Ships from Warehouse in 1-5 Days
Description
---
Are you interested in finding out how to profit from the NFT revolution?
Have you just learned about NFTs? Are you an artist, gamer, or musician that wants to join the trend? Do you find it difficult or just plain confusing to get all the information in one place?
Continue reading if you identify with this
This very lucrative and emerging trend is thoroughly covered in NFT Art and Collectibles for Beginners. This manual describes what NFTs are and gives a succinct account of how they came to be. Following the information on NFTs, you will also discover details on the Ethereum tokens. These guidelines serve to bind the digital collectibles system together.
This comprehensive manual also covers the inner workings of NFTs as well as their significance and worth. The understanding of the fields you can enter in this digital trend will be delivered through the areas of application and usage. The content in this book also includes a list of the main markets and a description of how NFTs are made.
This book also dispels a few common misconceptions about NFTs. The most important sectors that are developing inside the NFT frenzy are art and games. This is especially true for the gaming sector, which gives individuals of all ages the opportunity to learn about technology in an exciting new way.
You'll learn the following in this book:
Understanding NFT and Ethereum better
the definitions of essential terms
Risks present
NFTs' history and development
Ethereum Token Guidelines
Why NFTs are valuable and how they operate
NFT applications
Non-Fungible Tokens on the Blockchain
Myths about the Non-Fungible Token market
Notable cases and leading NFT crypto projects
Art's function in NFTs
Games and NFTs
Prospects for non-fungible tokens
plus a lot more
Learn more about this innovative digital asset and how you may capitalize on this growing trend.