Dios emperador de Dune / God Emperor of Dune (LAS CRÓNICAS DE DUNE #4) (Paperback)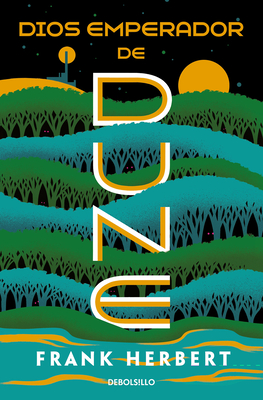 $13.95

Not Available In-Store - Usually Ships from Warehouse in 1-5 Days
Other Books in Series
This is book number 4 in the LAS CRÓNICAS DE DUNE series.
Description
---
Dios emperador de Dune es la cuarta entrega de la fascinante saga de ciencia ficción de Frank Herbert.

Esta cuarta entrega de la saga «Dune» centra su trama en la figura mesiánica de Leto Atreides II (hijo de Paul Atreides, héroe cuya estirpe hunde sus raíces en la legendaria casa griega de los Atridas) y nos lleva, a través de diversos dilemas éticos, a comprender los mitos que necesita la humanidad y a los héroes que los encarnan. El futuro, en el mundo de Dune, pertenece solo a los que son capaces de pensar por sí mismos.

Esta saga apasionante plantea por primera vez de forma completa, racional y convincente todo un mundo absolutamente diferente del nuestro. Sus referencias a los problemas ecológicos, el poder de las drogas y la fuerza de los mitos la han convertido en una obra de culto para millones de lectores en todo el mundo.

ENGLISH DESCRIPTION

Millennia have passed on Arrakis, and the once-desert planet is green with life. Leto Atreides, the son of the world's savior, the Emperor Paul Muad'Dib, is still alive but far from human. To preserve humanity's future, he sacrificed his own by merging with a sandworm, granting him near immortality as God Emperor of Dune for the past thirty-five hundred years.

Leto's rule is not a benevolent one. His transformation has made not only his appearance but his morality inhuman. A rebellion, led by Siona, a member of the Atreides family, has risen to oppose the despot's rule. But Siona is unaware that Leto's vision of a Golden Path for humanity requires her to fulfill a destiny she never wanted—or could possibly conceive....

About the Author
---
Frank Patrick Herbert nació en Tacoma, Washington (1920). Antes de comenzar a escribir ciencia ficción, tuvo varias profesiones, desde fotógrafo y cámara de televisión a pescador de ostras. En 1965 presenta la serie de libros «Las crónicas de Dune», con gran éxito de la crítica y del público, donde describe un mundo imaginario con su propia política, ecología y estructura social. La primera obra de la saga, Dune, tuvo un grandísimo éxito por parte del público y de la crítica y obtuvo los premios Nébula y Hugo, además del Premio Internacional de Fantasía, que compartió con El señor de las moscas de William Golding. Falleció en el 11 de febrero de 1986.