Casa capitular / Chapterhouse Dune (LAS CRÓNICAS DE DUNE #6) (Paperback)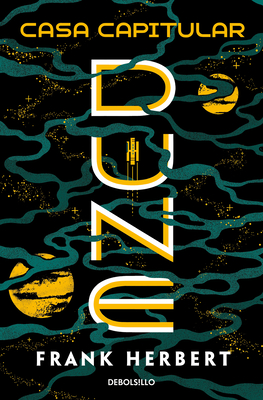 $13.95

Not Available In-Store - Usually Ships from Warehouse in 1-5 Days
Other Books in Series
This is book number 6 in the LAS CRÓNICAS DE DUNE series.
Description
---
Sexta entrega de la extraordinaria saga «Dune», Casa Capitular abre insólitas dimensiones a una narración que está considerada la cumbre de la ciencia ficción contemporánea.

Las Honorables Madres se enfrentan, con sus terribles poderes, a la secular Bene Gesserit. Las revenidas Madres, ocultas y fortificadas en su planeta Casa Capitular, intentan revivir el viejo orden que les dio su antiguo poder en todo el universo. Un ghola de Miles Teg está siendo adiestrado para superar incluso a su poderoso antecesor.

La unión de Duncan Idaho y Murbella, cautivos ambos en la no-nave, puede arrojar luz sobre el traumático fenómeno de la Dispersión.

ENGLISH DESCRIPTION

The desert planet Arrakis, called Dune, has been destroyed. The remnants of the Old Empire have been consumed by the violent matriarchal cult known as the Honored Matres. Only one faction remains a viable threat to their total conquest—the Bene Gesserit, heirs to Dune's power.

Under the leadership of Mother Superior Darwi Odrade, the Bene Gesserit have colonized a green world on the planet Chapterhouse and are turning it into a desert, mile by scorched mile. And once they've mastered breeding sandworms, the Sisterhood will control the production of the greatest commodity in the known galaxy—the spice melange. But their true weapon remains a man who has lived countless lifetimes—a man who served under the God Emperor Paul Muad'Dib....
About the Author
---
Frank Patrick Herbert nació en Tacoma, Washington (1920). Antes de comenzar a escribir ciencia ficción, tuvo varias profesiones, desde fotógrafo y cámara de televisión a pescador de ostras. En 1965 presenta la serie de libros «Las crónicas de Dune», con gran éxito de la crítica y del público, donde describe un mundo imaginario con su propia política, ecología y estructura social. La primera obra de la saga, Dune, tuvo un grandísimo éxito por parte del público y de la crítica y obtuvo los premios Nébula y Hugo, además del Premio Internacional de Fantasía, que compartió con El señor de las moscas de William Golding. Falleció en el 11 de febrero de 1986.